Launched in 2016, Royal Caribbean's Harmony of the Seas is the world's biggest cruise ship. The vessel was designed with modern cruise trends in mind, showcasing non-stop entertainment and activities along with plenty of cabin and dining options. 2017 cruises include visits to the Eastern and Western Caribbean, a perfect opportunity for families, groups and solo travellers to experience tropical paradise on a floating resort/theme park.
Cruise companies have constantly moved with the times and the changes are most noticeable on the mega cruise ships. Passengers want the journey to be an experience in itself to complement the exotic destinations. Royal Caribbean have responded to public expectations by creating vessels that accommodate more than 5,000 passengers from all walks of life. The romance of cruising is still evident around the ship, although Royal Caribbean also understand that fun and romance go well together. On Harmony of the Seas, passengers get the best of both worlds and a whole lot more.
Harmony of the Seas features
The move toward family cruising has resulted in an abundance of energetic and active passengers. Youngsters and the young at heart are provided with theme park style diversions designed to excite and entertain even hardened adrenaline junkies. Harmony of the Seas swimming pools are wet and wild fun parks replete with giant slides full of twists and turns. Harmony also has two surf simulators for showing off surfing prowess on a never ending wave. Drying off is as easy as a ride down the zipline or taking on the challenge of the rock climbing walls.
Relaxed cruisers are kept well in the equation also. There are three large pools on Harmony, plus the adults-only Solarium for a relaxing spa environment. Lounging areas provide plenty of poolside comfort and sun-worshipping opportunities. Activities are all around Harmony, and indoor pursuits are just as amazing. Passengers are surprised and delighted to see an ice skating rink onboard, plus a full-sized basketball court and classic carnival games at the Boardwalk Arcade.
Harmony of the Seas has adopted the neighbourhood concept first rolled out on sister ship Oasis of the Seas. The ships resemble self-contained townships and the neighbourhood concept is a natural extension for grouping similar activities together. The ship has seven distinct neighbourhoods:
Central Park – a space for peaceful relaxation

Boardwalk – a bustling entertainment and amusement area

Royal Promenade – the people-watching and shopping hub where dining and dancing rule

Entertainment Place – when it's time to take in a show or performance

Youth Place – for kids of all ages to hang out, make friends and enjoy themselves

Vitality Spa and Fitness Center – for working off the calories and being pampered

Pool and Sports Zone – swimming, playing, sunning and enjoying the view
Enormous cruise ships can provide variety like never before and at times you will even forget you are at sea. The Royal Promenade has all the trappings of a major resort complex and the sheer size of the vessel means passengers are less likely to notice the waves – a big plus for people prone to sea sickness.
Cabins on Harmony of the Seas
Cabin choices on Harmony will suit every type of traveller. The range is extensive, from studio cabins for one passenger to the Presidential Suite that accommodates 14 people comfortably. Colour schemes are consistent throughout, with light carpets and soft toned wood counterbalanced by silver hardware and splashes of aqua. Design elements incorporate innovative storage solutions so your bags are stored out of sight and you are left with room to put your feet up and relax. Beds are designed as twins that can be connected as a king-sized bed, and furnishings are stylish and new.
All modern conveniences are provided, including mini-bars, safes, phones and large flat-screen TVs. Bathrooms are generally compact yet very functional, and the majority of suites have a balcony for enjoying the sea air and amazing vistas. The cabins are energy-efficient and equipped with power and USB outlets appreciated by cruisers who want to stay mobile connected. Fast internet is a big plus on some new cruise ships and Royal Caribbean has dedicated major investments into satellite technology.
Harmony of the Seas also has wheelchair-accessible cabins in many categories that include wider doors, turning space, and furniture built for convenience. Even the smaller cabins feel special thanks to nice features and ample storage space, while larger suites have a real wow factor.
Interior: Although not large, interior cabins feature a virtual balcony using a HD TV for real-time streaming by cameras placed strategically around the ship. The illusiory balcony is surprisingly realistic and even includes volume which can be turned down if the waves are too loud.
Oceanview: There are several options in the Oceanview category. Some have views of the ocean, whereas others are designed for people-watching. These cabins overlook the Boardwalk, Promenade or Central Park with special windows for blocking out the sounds below. Larger Oceanview cabins can accommodate six people in comfort.
Studio: Designed for solo travellers, interior and oceanview studio cabins allow cruisers to bunk down without having to pay an additional surcharge for staying in a cabin built for two. Studio oceanview cabins have a porthole style window for achieving a nautical feel.
Balcony: Cabins with balconies come in varying configurations to suit individual and group requirements. Most balcony cabins overlook the ocean, although there are some balcony cabins with views of various ship neighbourhoods.
Suite: Harmony of the Seas has three suite classes: Sea Class, Sky Class and Star Class. Suite passengers get dinner access to the Coastal Kitchen, fancy bath products, bathrobes and other incentives. Additional extras include in-suite dining, a Thermal Room spa pass, special concierge services and a welcome gift. Star Suite upgrades include the Ultimate Beverage Package, speciality dining, coffee-maker, high-end furnishings and more.
Harmony of the Seas suites range from the Junior Suite to the Royal Loft Suite complete with a huge wraparound balcony, two bedrooms, spacious dining and living areas and a grand piano. The bathroom and fittings are stylish, while plush furnishings and classy décor exude opulence and spread over two levels of the ship. There really is a place for everyone on Harmony of the Seas.
Dining on Harmony of the Seas
There are twenty dining options on Harmony of the Seas. Passengers are spoilt for choice, although the decisions are made easier thanks to the dedicated neighbourhood environments and almost 2,400 crew who are attentive to customer needs. There are lots of free dining options for any time of the day or night, even outside of the main dining rooms. Passengers with dietary restrictions or preferences are well catered for on Harmony. Restaurant reservations can be made prior to boarding or by using the Royal IQ app once onboard.
Main Dining Room: Comprised of three separate rooms on decks 3, 4 and 5, the Main Dining Room offers set-time dining or My Time Dining for people preferring flexibility. Segments of the restaurant open at various times, with breakfast, lunch and dinner available. The restaurant closes at 9:30 pm. Dinner menus, for example, offer appetisers, salads, soups and succulent main courses, with vegetarian options always available.
Cafe Promenade: Located in the busy ship hub, Cafe Promenade is a 24/7 stop for pastries, sandwiches, sweets, tea and coffee. People-watching is a pleasure on Harmony.
Sorrento's Pizzaria: Also found at the Royal Promenade, Sorrento's serves made to order pizza by the slice. Self-serve coca-cola is available, as are gluten-free pizzas. Sorrento's is open until late at night.
Park Cafe: Located near Central Park, the Park Cafe is another people-watching favourite. Cruising these days is all about sharing the experience, meeting people and making new friends. Park Cafe is open for breakfast and lunch with treats such as bagel sandwiches and custom-made salads.
Boardwalk Dog House: Reminiscent of Coney Island, the Boardwalk Dog House provides filling Coney Island Dogs complete with mustard, ketchup and a range of quality condiments. Open to 11:30 pm, this establishment will soon quell any unexpected late night hunger pangs.
Vitality Cafe: Healthy people want healthy food, and the Vitality Cafe is situated within the Spa complex for convenience. Open from early morning until late in the evening, Vitality Cafe is a fresh fruit and yoghurt oasis on this culinary Caribbean journey.
Windjammer Marketplace: The major buffet on Harmony of the Seas, Windjammer Marketplace is the casual alternative for breakfast, lunch and dinner. Seating is designed for singles, couples and large groups, with serving stations for hot and cold foodstuffs, desserts and tasty treats from cuisines around the world. Continental breakfasts, a carving station, burgers, breads, ice cream and much more is available at Windjammer Marketplace.
Solarium Bistro: Open for breakfast, lunch and dinner, the Solarium Bistro is a retreat from the occasional mayhem found at larger establishments. The scaled down menu is still extensive enough to satisfy the most discerning of diners.
There are also several upmarket for-fee restaurants on Harmony of the Seas. Izumi Hibachi and Sushi is the Asian go-to eatery. Asians are taking up cruising in greater numbers than ever, and Izumi gets the thumbs-up. Chops Grille on deck 8 is Royal Caribbean's own steakhouse located in Central Park, close to another for-fee dining experience, 150 Central Park, a premium restaurant featuring Michael Schwartz creations.
Another celebrity chef, Jamie Oliver, makes his mark with Jamie's Italian. The classic Italian dishes are a hit, with many passengers returning to Jamie's night after night. Mexican food aficionados head to Sabor Taqueria and Tequila Bar on deck 6, while Johnny Rockets, also on deck 6 is a culinary blast from the 1950s past. Sundaes, apple pie, shakes and malts are all the rage here. Harmony of the Seas culinary choices are designed to surprise and delight at every turn.
Additional entertainment and activities
The Royal Theatre is a big show venue spanning two decks. It hosts everything from Broadway-style musicals to outstanding band performances. Guests repose on comfortable seating andThe Royal Theatre is a major drawcard every evening. For a different entertainment perspective, passengers head to the Aqua Theatre near deck 6 where high-wire acts and acrobatic stunts bedazzle the crowd. Show performances are free although reservations are required.
Daytime diversions include basketball, ping-pong, poker, bingo and even dance classes. Ice skating is a thrill for youngsters and parents alike, and quite a unique experience while cruising tropical waters. There is even an ornate carousel on the Boardwalk, plus an arcade with a variety of amusement games.
At night Harmony of the Seas takes on a party mood for music, dance and cocktails. The casino is a real drawcard offering newcomers the chance to try their luck on slot machines, roulette or blackjack, and music ranging from jazz to rock can be enjoyed in the various bars and venues. Trivia, karaoke and games shows are fun audience participation alternatives, and another opportunity to socialise. Regardless of age or travel style, Harmony of the Seas really does offer something for everyone.
Harmony of the Seas destinations
Royal Caribbean Cruise Lines are the Caribbean specialists. The vessels are well known and appreciated in pristine waterways for a commitment to energy-efficient and clean sailing, with several beautiful resort locations only accessed by Royal Caribbean on the itinerary.
Harmony of the Seas is visiting iconic Eastern and Western Caribbean islands and cities during 2017, including Labadee, St. Maarten, San Juan, Nassau and Cozumel. Stops in mainland USA include Fort Lauderdale in Florida. A 7 night Caribbean cruise is a real eye-opener to another world, with enough time to explore the tropical wonderland and enjoy all the comforts of home, floating theme-park style.
Ship Stats
Capacity
5,479 passengers at double occupancy,
6,780 maximum
Crew
2394
Decks
18; 16 passenger decks
Built
2016
Cruising Speed
25 knots maximum
Length
1,188.1ft / 362.12m
Weight
226,963 GT
Beam
155.6ft / 47.42m
Draught
30.6ft / 9.3m
Installed power
4 × 13,860 kW,
2 × 18,480 kW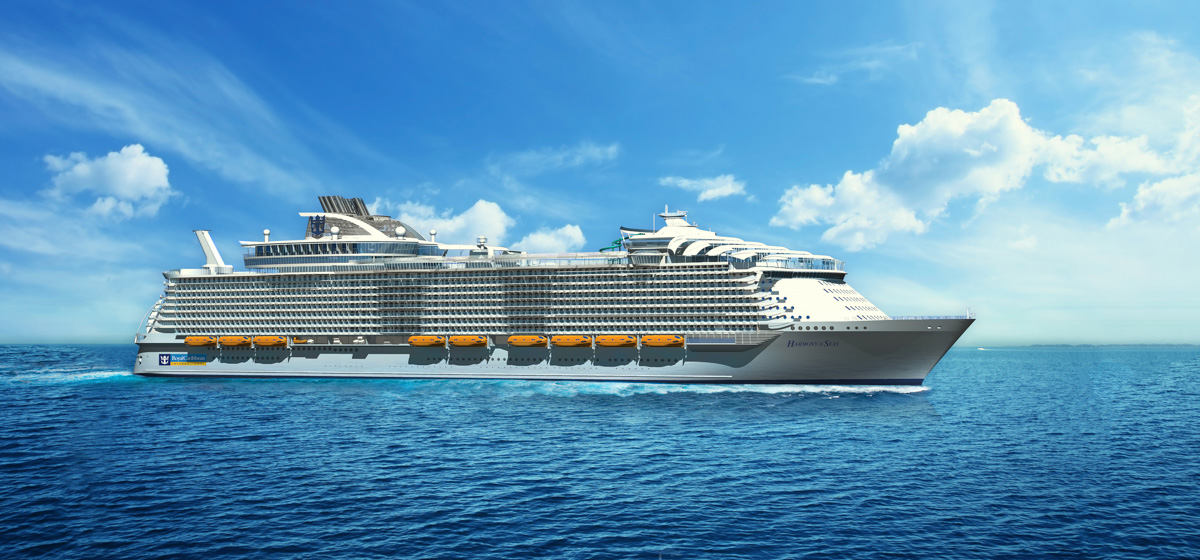 Harmony of the Seas Floor Plan
You can download the 2016 floor plan here (8MB): Harmony of the Seas deck plan. For the latest version, visits the official website.