Mega-size cruise ships attract resort-style cruise passengers. The sheer size of  Anthem of the Seas allows Royal Caribbean to capture their own slice of the cruise market. The industry is extremely competitive, as are cruise prices, so cruise companies are constantly devising ways to attract more people onboard. Royal Caribbean has a large fleet of ships and the leverage to build huge floating resorts.
The response to mega-ship development has been outstanding. Cruises are more popular than ever, the ships are jam packed with activities and features, and tour groups of all sizes are easily accommodated. Resort-style sailing may not be for everyone, especially those who prefer a more intimate or relaxed cruise, but for most vacationers Anthem of the Seas is built just right. Plus, there are amazing features that only a huge vessel hosting 4,180 passengers can showcase properly.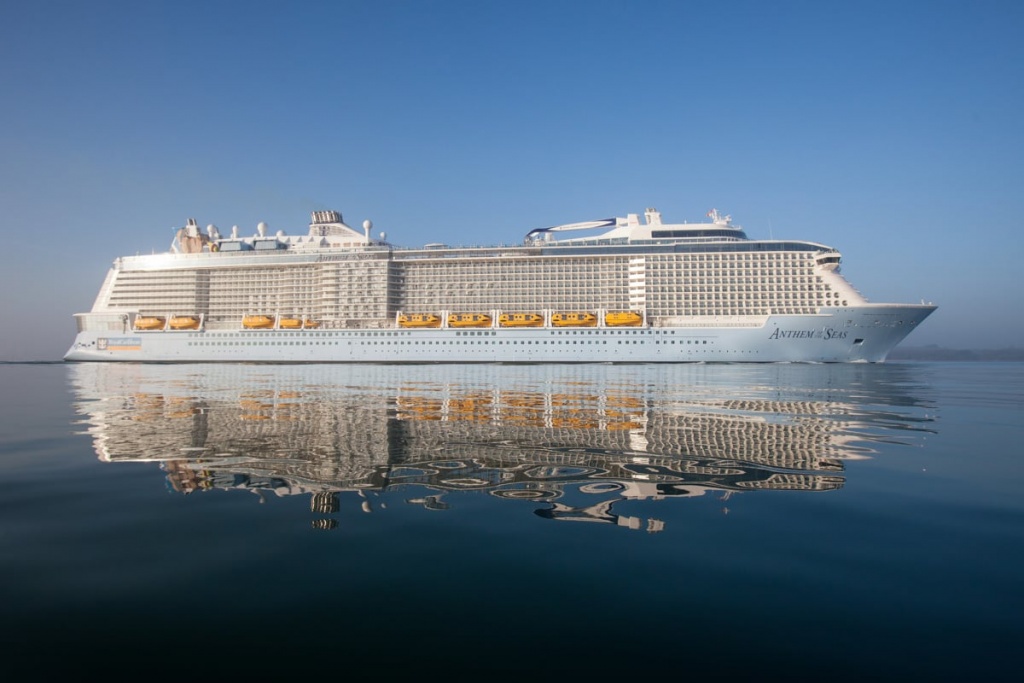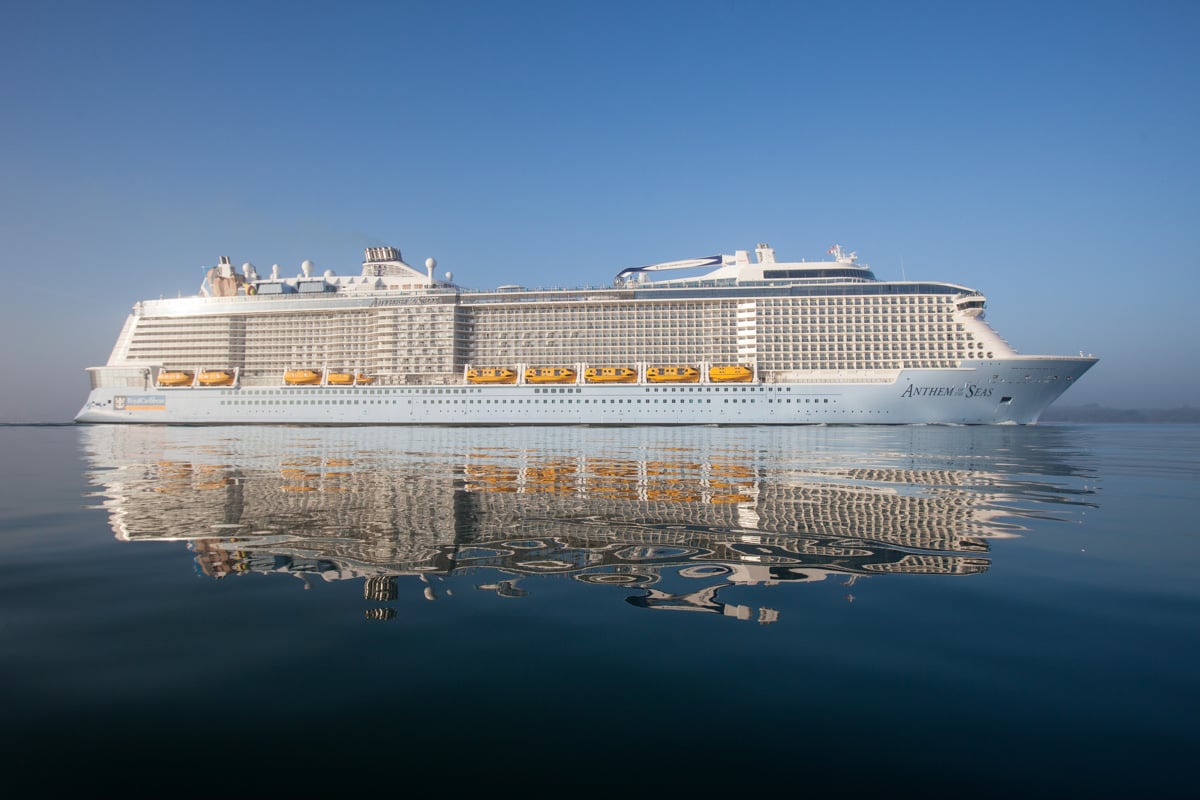 Features of Anthem of the Seas
Inside and out, Anthem of the Seas will surprise and delight. Many cabins and suites are connectible, solo travellers are well catered for, balconies are aplenty and thrills for youngsters will keep them occupied all day long. As a Royal Caribbean Quantum Class ship, Anthem of the Seas features include North Star, a viewing capsule extended on a huge mechanical arm that takes passengers 100 metres above the sea and extends beyond the ship for 360-degree views. The RipCord by iFly skydiving simulator is another first-time cruise ship innovation on the Quantum Class ships. SeaPlex is an entertainment complex that takes advantage of the vessel's size, with room for bumper cars and a circus school.
Extravagant onboard entertainment is another area large ships like Anthem shine. Roomy theatre and show venues wow crowds with Broadway and Vegas-style shows and feature acts, while aerialists and dancers bedazzle audiences. Certain features of the ship are bewildering to old-fashioned cruisers who may not consider a two-deck-high ornamental giraffe statue very useful, but youngsters don't seem to mind.
Although large, Anthem of the Seas tries hard to create an inviting and opulent experience that is noticed by the wealth of artwork and sculpture placed all around the vessel. It's worth exploring the full ship for art appreciation alone. However, regardless of the ship's interior, when the weather is fine most passengers are still drawn to the top deck swimming pools and recreation areas. Fortunately, Anthem of the Seas has three pools, several whirlpools, a giant movie screen, soft-serve ice cream, a poolside bar plus plenty of comfortable seating. The H20 Zone connected to the main pool area is for younger children and toddlers. Everyone on Anthem of the Seas can enjoy the trip of a lifetime, regardless of age.
As a newer vessel, Anthem of the Seas has the capacity to provide a fast and reliable internet service thanks to satellite connectivity. Fast internet, a rarity on cruise ships, is here at last along with the option for online restaurant bookings and iPad check-in. Robot bartenders even get in on the technology act, and considering they aren't even human they mix a fine cocktail. Anthem of the Seas is worth exploring from front to back, with enough variety to keep even the most energetic passenger occupied for weeks.
Cabins
Cabin choices are great on larger ships. Several new cabin categories have been introduced by Royal Caribbean, and the new virtual balconies have been warmly welcomed. These huge HD screens act as a window, beaming real-time video of the ocean or harbour outside the ship 24/7. Volume can even be turned down if the waves are crashing too loudly. The great majority of outside cabins have balconies for privacy and sea breeze, and some larger suites have incredibly lavish features.
Of the 2,090 cabins on Anthem of the Seas, 1,570 come with balconies. Accessibility is made possible with 34 wheelchair-friendly cabins in various categories and even some solo cabins have balconies. The ship is still very new, with décor and styling that reflects modern trends, although traditional touches are evident to retain a nautical feel. The rooms are designed to maximise storage and sleeping functionality and provide a sense of home away from home. It's worth remembering that everything else you need is available onboard in both free and for fee varieties.
[ngg src="galleries" ids="1″ display="basic_thumbnail" thumbnail_crop="0″]
Internet and wireless communications are well supported on Anthem of the Seas. Every cabin has plenty of power outlets and USB ports for keeping devices charged and active. Passengers can still get away from it all on a cruise, although times have changed and you are equally liable to find cruisers posing for onboard selfies to send to jealous friends back home. Overall, the cabins are well designed, slightly larger than average, with sensible under-bed storage. Cabin choices include:
Interior Cabin: The new HD virtual balcony screens are a game-changer. Passengers enjoy real-time footage of the outside view thanks to strategically placed cameras around the ship. Eighteen interior cabins are interconnected for creating larger group spaces.
Ocean-view Cabin: Slightly larger than interior cabins, the ocean-view cabins are situated in interesting deck locations, including 36 cabins that face to the front so you will be first onboard to catch all the views as you near exotic destinations.
Balcony Cabin: Deluxe and Superior Staterooms are spacious and comfortable, with a range of balcony sizes to choose from for enjoying the outdoor view.
Mini Suite: These suites are available in varying sizes, including Family Connected Suites and Spa Junior Suites with upgraded bathroom amenities including separate tubs and rain shower-heads. Mini-suite passengers enjoy upgraded balcony furniture and dinner options.
Suite: All seven suite categories on Anthem of the Seas include extra living space and a sofa bed. Additional upgrades include priority check-in, reserved seating at shows and more restaurant options. Anthem suites are nicely appointed with plush furnishings and all mod cons. Larger suites provide more privacy and options for entertaining and Anthem pulls it all together. To give some idea regarding cabin choices, The two Grand Loft Suites, one Owners Loft Suite and one Royal Loft Suite all span two decks and have features in common with the best modern homes.
Families are at the forefront on Anthem of the Seas. It's no surprise that cabin options include interconnecting cabin arrangements for large families and groups. With so much to do on Anthem it's common to bring the whole family along for the cruise. The kids get to play while mum and dad get to join in or relax, and even babies are catered for by experienced nanny staff.
Dining
Cruise ship dining options continue to expand, and Anthem of the Seas is big enough to have all tastes covered. Dining reservations can be made prior to sailing or through Guest Services once onboard. The free Royal IQ  app is another booking pathway using innovative technology to speed up waiting times for meals or shows. In any case, dining is spread over four main restaurants and plenty of smaller establishments and cafes.
Anthem of the Seas offers fixed dining time and seating arrangements or dynamic dining allowing passengers to dine in their own time. Both dining options can be pre-booked. Passengers enjoying free meals on Anthem won't find repetition a problem as each of the four restaurants have two different menu options and it would take more than a week to try everything once. And that's before even exploring the many other food and snack outlets, cafes and gourmet restaurants. Here are a few Anthem of the Seas dining options:
The Grande Restaurant: This is where formal cruise dining becomes a reality. Diners in suits and cocktail dresses enjoy a European style menu, piano music and cultured elegance. Menu choices include classic and signature dishes. Open from 5:30 pm to 9 pm.
Chic: Although located across from The Grande, Chic is a relaxed option without formal dress requirements. Tables vary in size to suit intimate couples and large groups. American and European cuisine rule with a range of succulent main courses, salads and desserts. Open from 5:30 to 9 pm.
Silk: For a taste of Asia, Silk is the place to be. Thai, Chinese, Vietnamese and Indian flavours waft temptingly and draw a dedicated dining crowd. Sheer curtain fabrics subtly positioned create the illusion of privacy, while diners have a large selection as expected from Asian cuisine. Vegetarians also enjoy special dining choices across all four main restaurants. Silk is open from 5:30 to 9 pm.
American Icon Grill: This beachy establishment exudes Americana from all sides. Open for breakfast, lunch and dinner, the American Icon Grill is a relaxed place for all the family to eat. Healthy food, tasty treats, filling sandwiches and mains with lashings of sauce and gravy are just a few temptations to get you started.
[ngg src="galleries" ids="2″ display="basic_thumbnail" thumbnail_crop="0″]
Apart from the four main restaurants there are plenty of other free dining and snacking options on Anthem of the Seas. Boutique establishments such as Cafe Promenade are just right for grabbing a coffee and pastry, while the Windjammer Marketplace is an extensive buffet with lots of servery stations and seating arrangements available. You can find pizza at Sorrento's, gluten-free options at The Cafe @Two70, fruit and yoghurt at Solarium Bistro, Mediterranean fusion at Coastal Kitchen and hot dogs at SeaPlex Dog House. Then again, some days you may prefer to kick back in your room and order room service.
Paid dining choices include Jamie's Italian by Jamie Oliver, Michael's Genuine Pub, La Patisserie with Starbucks coffee, Wonderland Imaginative Cuisine, Izumi Japanese Cuisine, Chops Grille and Johnny Rockets. It would require a long cruise to try all the delicious foods available on Anthem of the Seas.
More Anthem of the Seas highlights
Impressive stage shows and performances are held nightly in the theatre, and are a must-see at least once while on any voyage. SeaPlex is a daytime alternative for socialising; its as easy as crashing into a stranger on the bumper cars or taking a flying trapeze lesson at circus school. Smaller pod areas of SeaPlex are set up with Xbox, air hockey and table tennis for fun diversions.
The large casino provides plenty of high-rolling action for the big spenders, and another diversion for curious onlookers. The Music Hall venue is the place for live music, a late evening drink and a chance to show of your dance moves. People who sing well, and even those who don't, will eventually find and excuse to enjoy karaoke sessions. The Schooner Bar is a more sedate alternative for a quiet drink amongst friends. Boleros is a Latin-style nightclub and the Bionic Bar is the futuristic alternative complete with robot bartenders.
Deck plans
You can check the latest version of the interactive deck plan on the offical Royal Caribbean website here.
Ship Stats
Builder
Meyer Werft, Papenburg, Germany
Cost
US$940 Million (2015)
Maiden voyage
22 April 2015
Tonnage
168,666 GT
Length
347.06 m (1,139 ft)
Beam
49.4 m (162 ft) (max)
Cruising speed
22 knots
Draught
8.8 m (29 ft)
Decks
18 total decks
Power
2 × Wärtsilä 12V46F (2 × 14,400 kW)
2 × Wärtsilä 16V46F (2 × 19,200 kW)
2 × Cat 3516C HD (2 × 2,500 kW)
Capacity
4,905 maximum
Crew
1,500