Pacific Jewel, the newest member of the P&O Australia fleet, was refurbished in 2013 to bring it in line with the other two cruise ships (Pacific Dawn & Pacific Pearl) sailing under the P&O Australia brand. The multi-million dollar upgrades include major improvements to Salt Grill, the signature restaurant. Other innovations include Australia's largest spa at sea, the Aqua HealthSpaFitness centre. The top deck has a brand new stage for circus acts and musical performances, and the chocolate cafe is everyone's favourite indulgence. The enhancements include interconnecting cabins, a new nightclub, and more.
Note: Pacific Jewel had different names and owners before. 1990-2002 she was called Crown Princess and was operated by Princess cruises, then between 2002 and 2004 she was called A'Rosa Blu and operated by A'Rosa Cruises, between 2004 and 2007 her name was Ocean Village Two and operated by Ocean Village (Carnival UK). The ship became Pacific Jewel in 2009 when Carnival shut down the Ocean Village brand and was transferred to P&O Australia.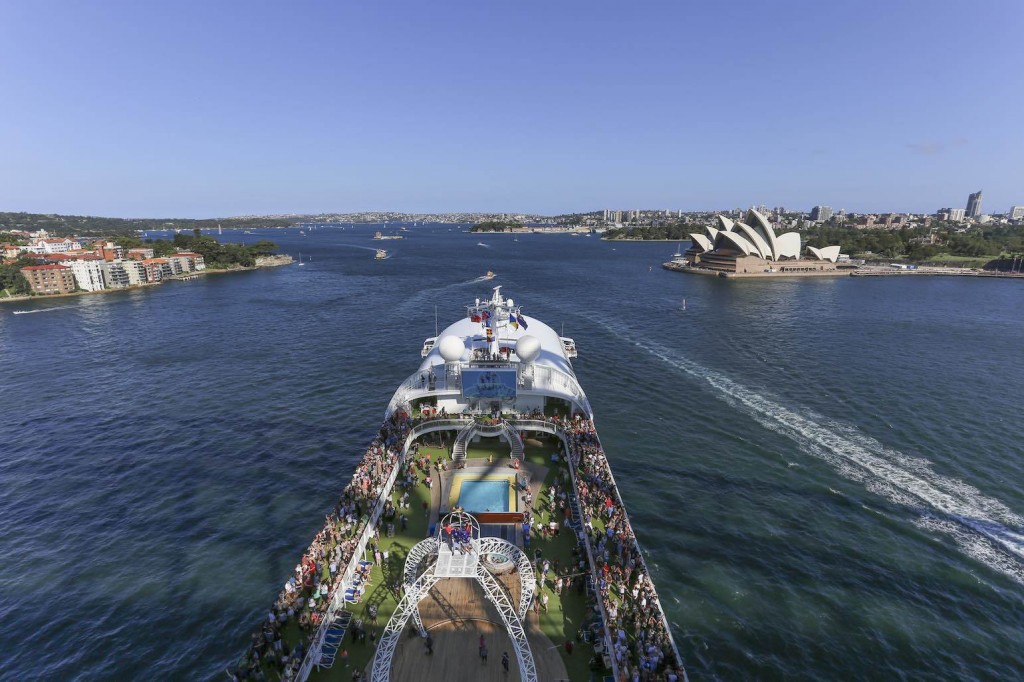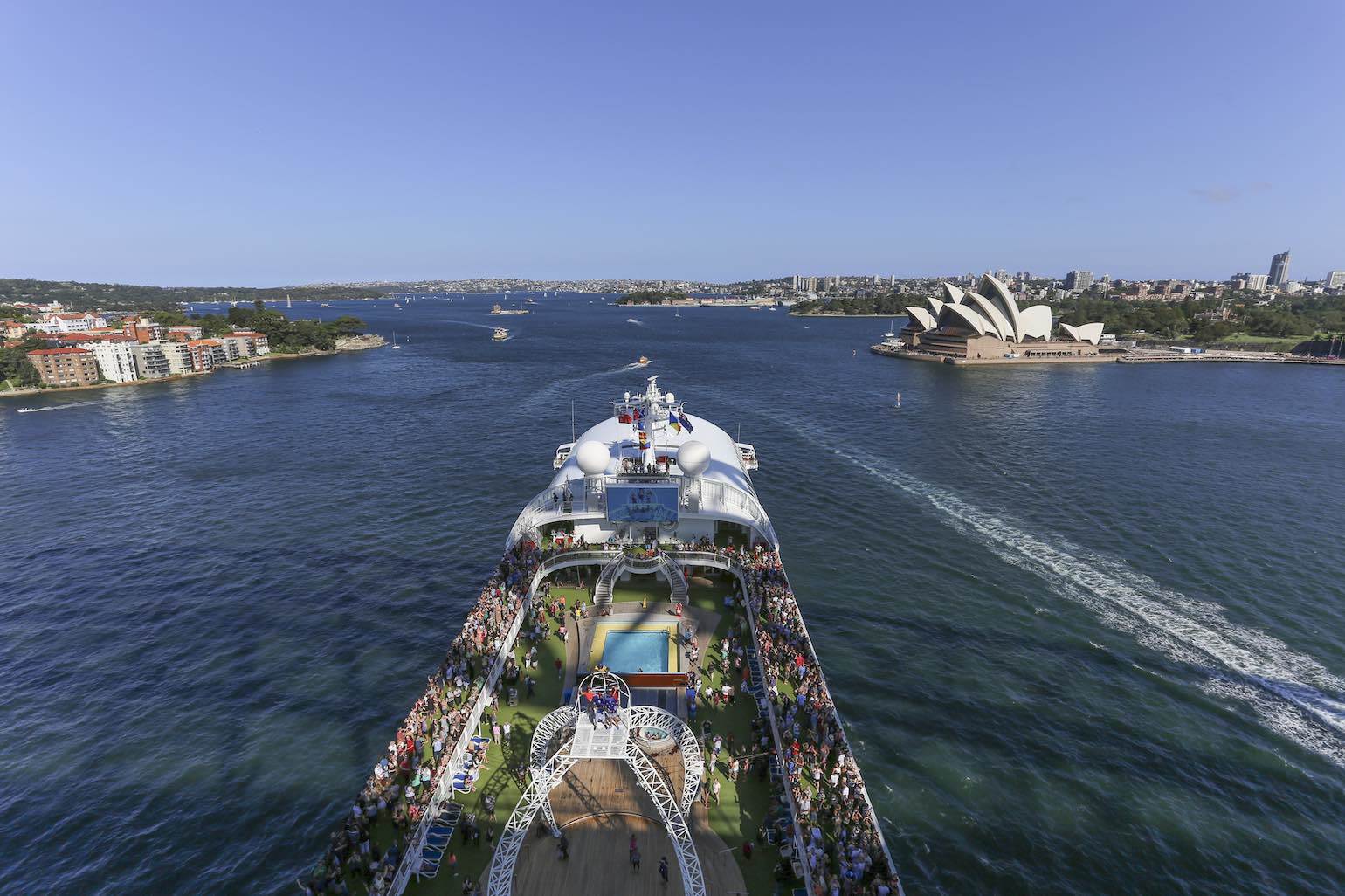 photo by Halans
Pacific Jewel Cabins
There are 132 cabins with balconies on the Pacific Jewel, and 36 mini-suites. All cabins have been significantly improved after major renovations. The ship also boasts 20 interconnecting cabins boasting inside, outside and balcony combinations. All rooms are fitted with the extras that P&O fans have come to expect, including flat-screen TVs and mini-fridges. Complimentary toiletries are also included. Cabin furniture is determined by your room choice, and can include sofa beds, easy chairs, tables, sun-loungers, coffee table, and even a full sized bathtub.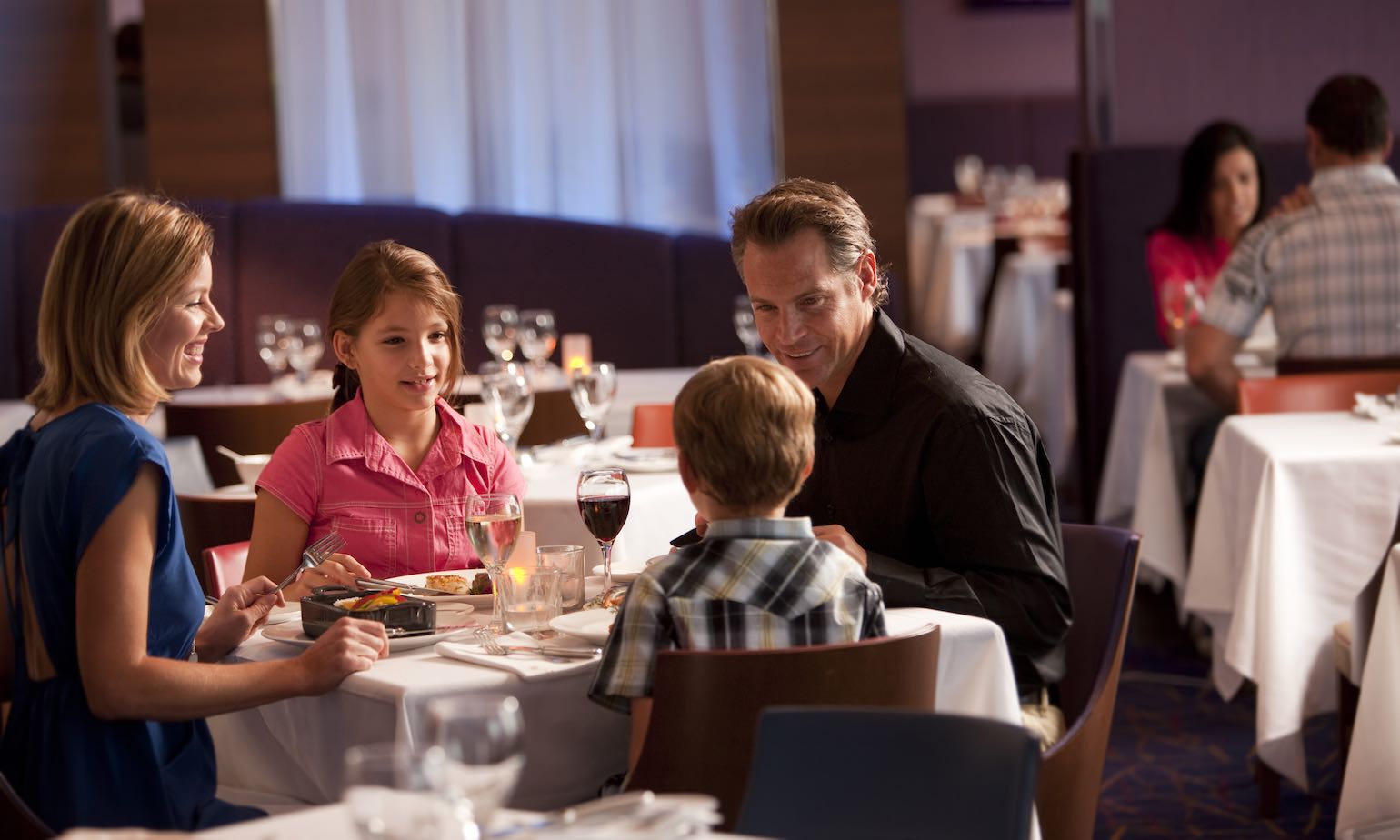 Dining options
The Waterfront Restaurant, located on Deck 7, is more contemporary in style compared to traditional cruise ship eateries. Tables are available for 2 to 10 diners, and there are small and cosy areas for a more intimate dining experience. The dining room offers Your Choice Dining, meaning you get to choose when to dine and who to dine with.
Local Australian and regional ingredients are a favourite with P&O passengers, including cheese from King Island and Tanna Coffee from Vanuatu. Kids options change daily, so they are always spoilt for choice. Plantation Restaurant, located on Deck 12, is the casual dining choice. The expansive buffet is open for breakfast, lunch and dinner, providing a multitude of tasty options.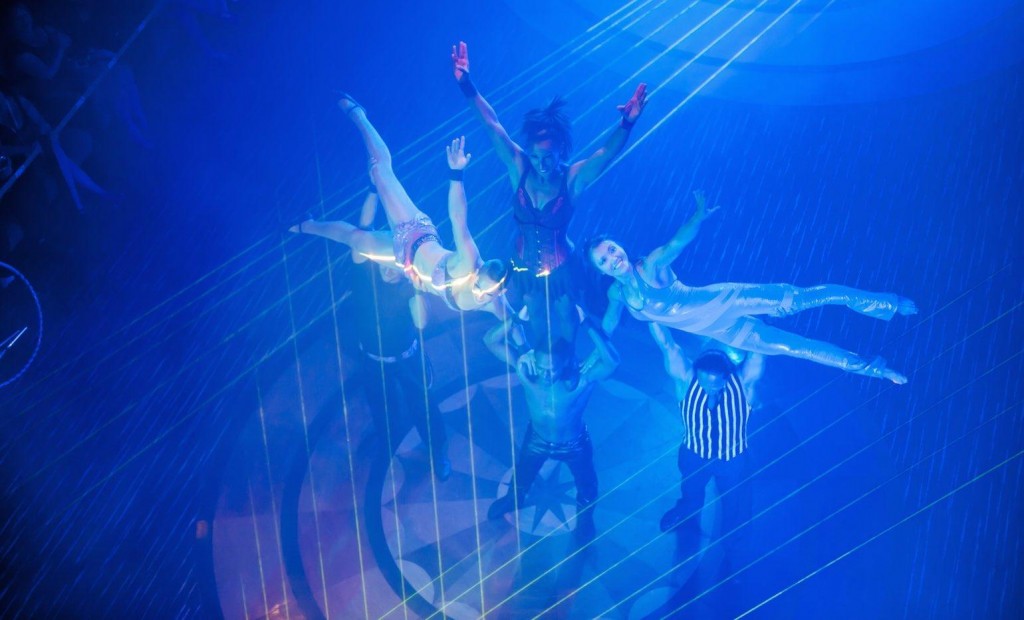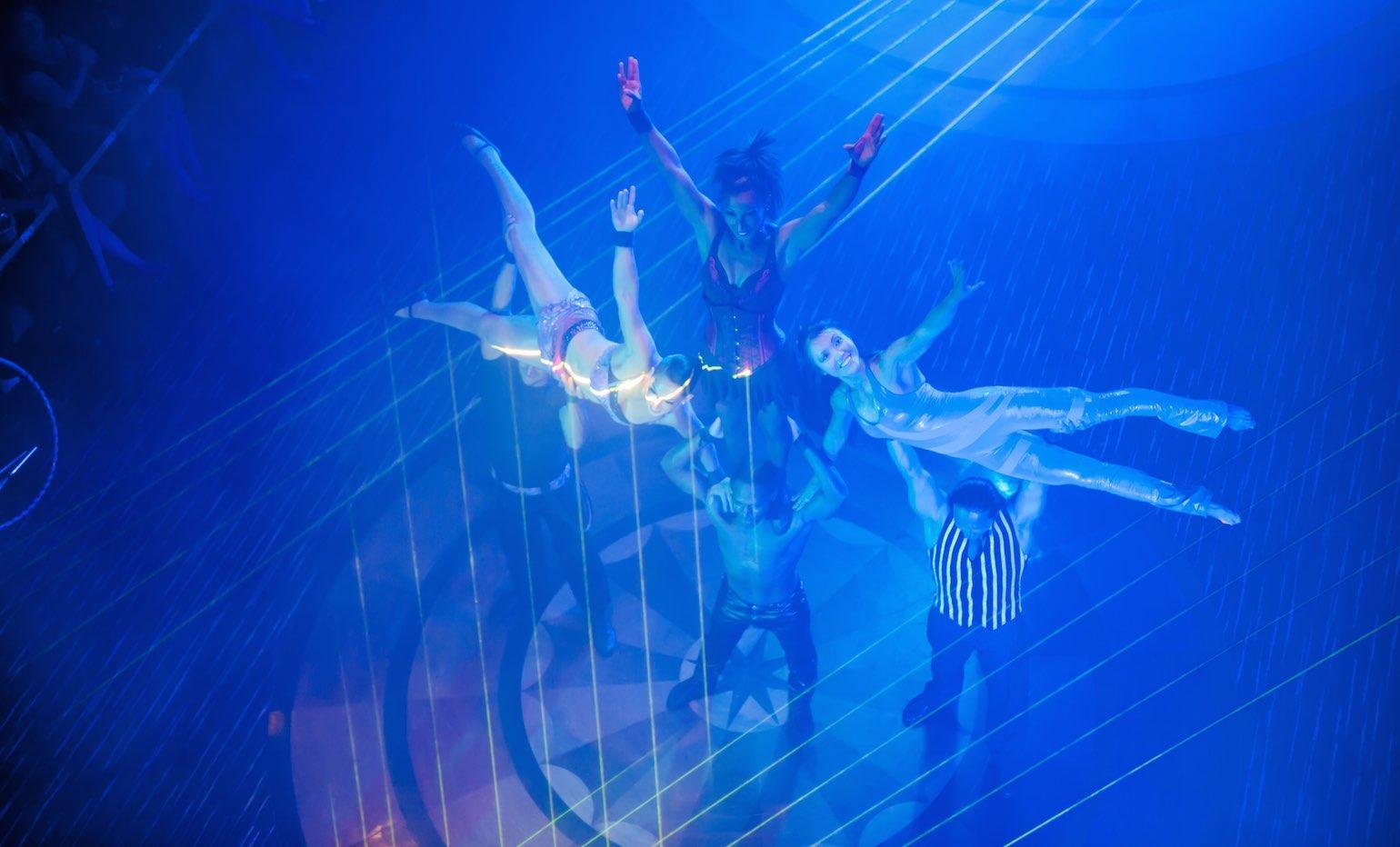 photo by Jason Meaden
Entertainment on Pacific Jewel
The outdoor stage on the top deck is a big hit on Pacific Jewel, providing fun for the entire family. A huge array of daytime activities keep passengers occupied and entertained. By the time the voyage is over there is every chance you will have enhanced your skill in ballroom dancing and Martini mixing, and a big-screen located by the forward pool deck is the place to catch a movie or keep up with the latest in the world of sports.
Broadway-style shows, including guest singers and entertainers, seduce the senses by night, while Pirates of the Pacific is a family friendly favourite. The shows are held in The Marquee theatre, which has also been greatly improved after refurbishment. The spectacular Pacific Cirque, reminiscent of Cirque du Soleil, comprises highly trained acrobats performing a floating circus.
Theme nights include 60s rock 'n' roll, island nights, and country and western. Passengers join the party by dressing up, dancing the hula, and having fun while making new friends. Clothes and accessories are available at onboard shops. Pacific Jewel theme cruises are also becoming very popular, and are usually part of shorter cruises to nowhere, with a focus on music, comedy, food and wine.
Considered the world's largest at-sea adventure park, P&O Edge, hosts a huge range of fun for adrenaline junkies. You can even take a 30 minute climb up the funnel of Pacific Jewel. Popular pastimes include laser tag and the flying fox, where you can fly above the pool deck. Passes for multiple activities can be purchased, as some attractions on Pacific Jewel are not free.
Kids of all ages enjoy the twin V8 car simulator, with the opportunity to pit your driving skills against the opposition. And don't forget, shore excursions are an exciting part of any cruise. Tour options on various Pacific Jewel cruises include visiting Australia's famous wine-making regions, a Broome camel safari, tours of Hobart and the sights of Auckland.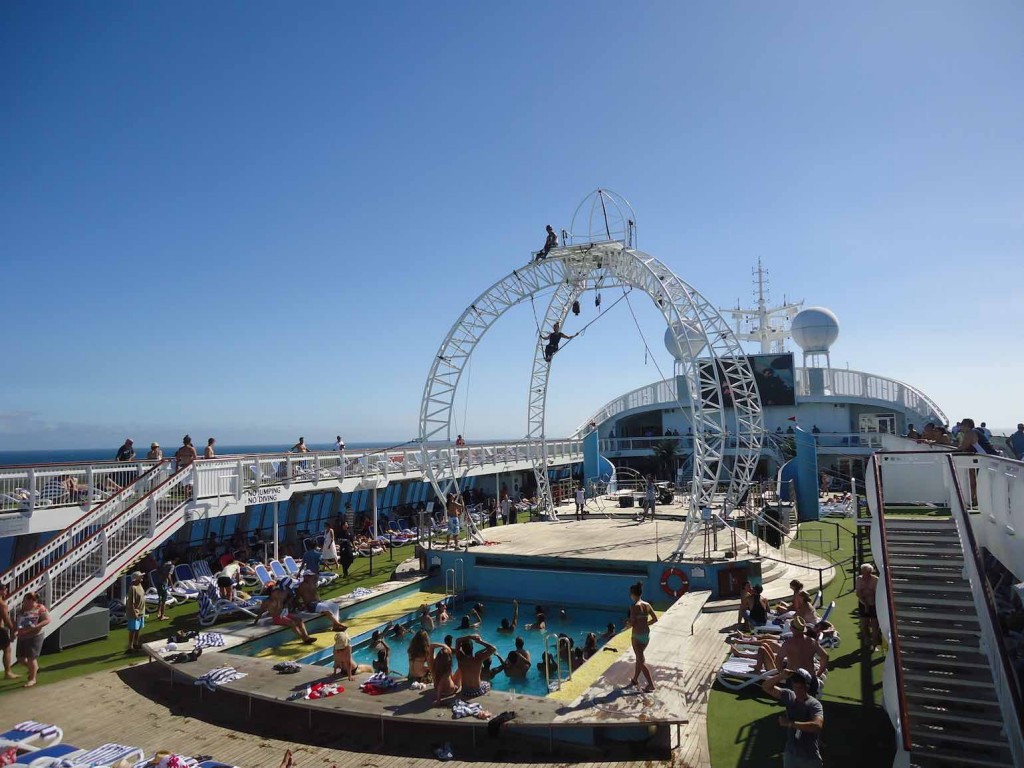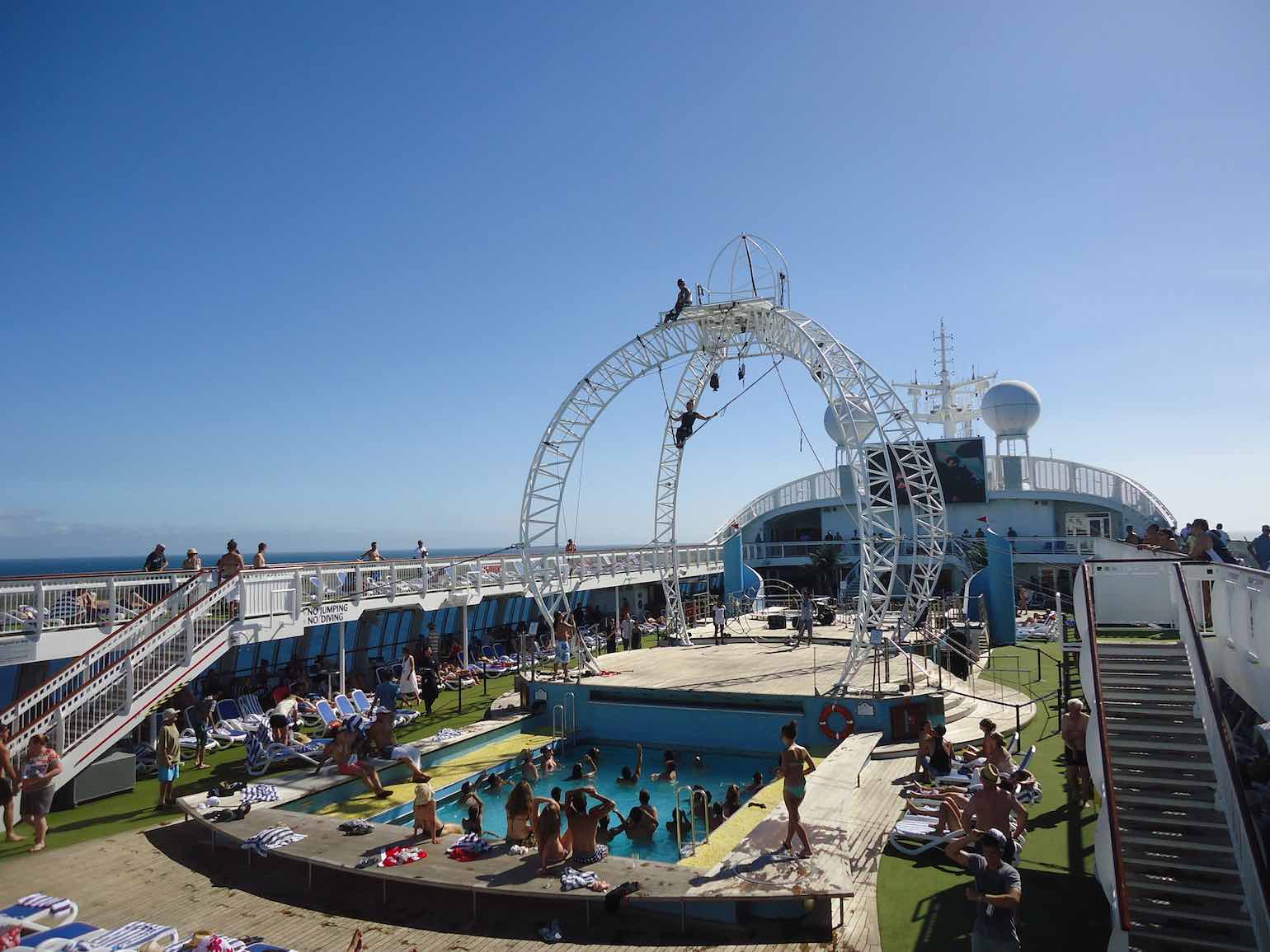 photo by Kate Ausburn
Places to meet and mingle on Pacific Jewel
The major passenger thoroughfare on Pacific Jewel is the majestic central Atrium, stretching three-storeys high and boasting a sweeping staircase, mood lighting, ample seating and the new Chocobloc lolly shop. Nearby computer terminals are available for surfing the net, checking emails, or booking shore excursions.
A range of bars to suit everyone's taste can be found on Pacific Jewel. The Dome Bar is relaxing by day and a nightspot after dark. The new Orient Bar is bedecked in dark wood and leather furnishings, befitting its status as a place specialising in whisky. Connexions has a retro feel reminiscent of the 70s, with gold and red décor, plus live bands, karaoke and dancing. The Mix venue is both cafe and bar, and includes live piano music at night. Players Bar and Casino, located on deck 8, is the place for a flutter, and includes plenty of seating for non-gamblers. There are also computer terminals by the oceanview windows.
Shops include those selling fashion and jewellery, beauty products, P&O memorabilia, perfume, beachwear and digital players, including accessories.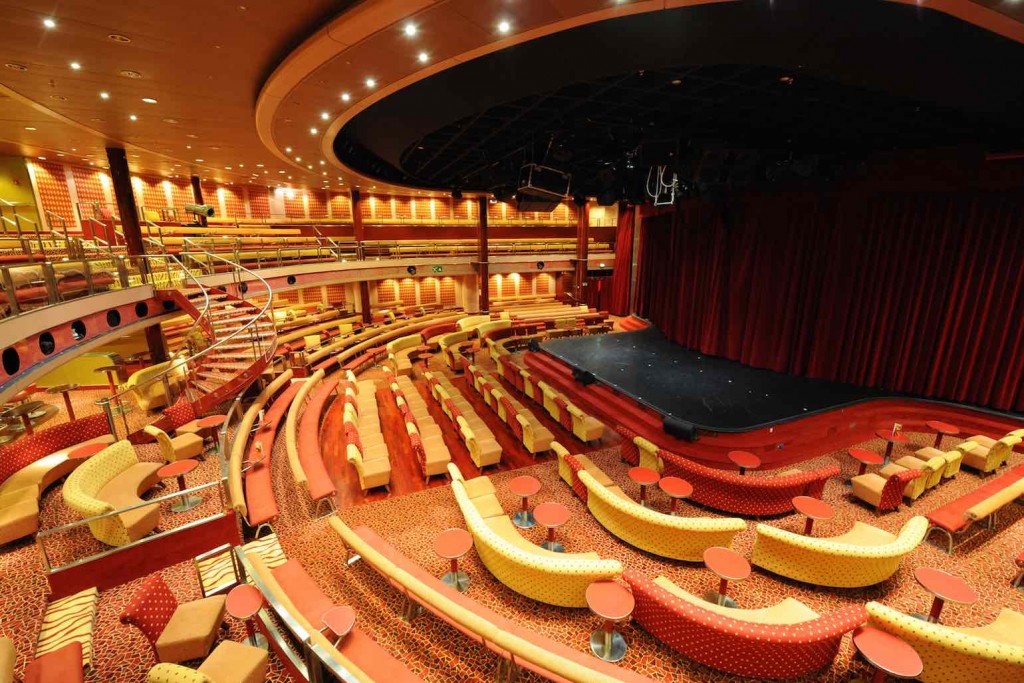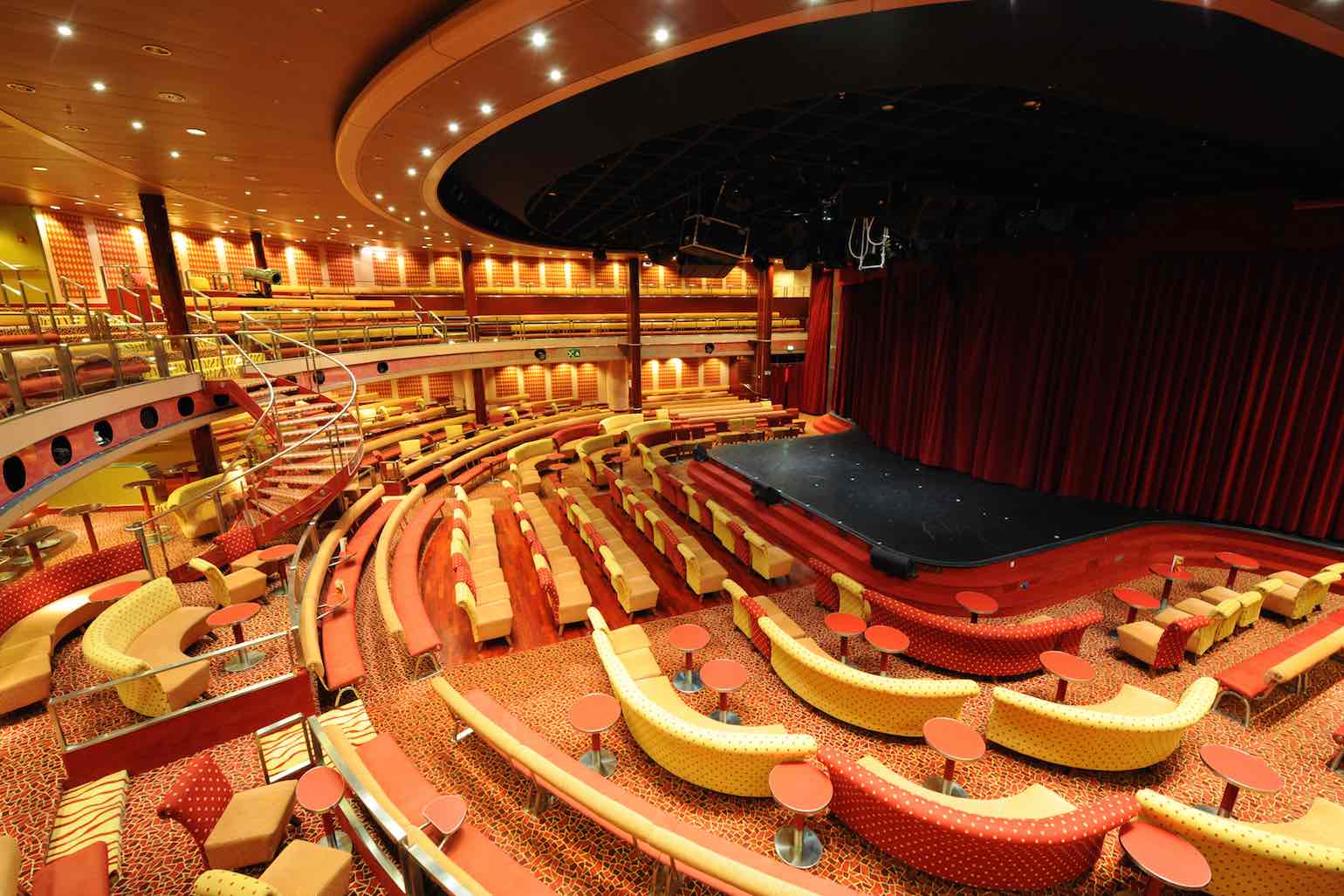 Fitness and health onboard Pacific Jewel
Aqua HealthSpaFitness is the largest spa in the P&O Australia fleet. There is also a hair and nail salon, and a dedicated barber shop. The spa includes 11 treatment rooms with ocean views. Every form of pampering and treatment is available, including massages, acupuncture and facials.
Fitness buffs can keep in shape on treadmills, weight training machines and elliptical machines. Towels are provided free of charge. Pilates and yoga seminars and fitness classes are also available. The thermal suite is popular, providing sauna, aromatherapy, relaxation pods and a meditation room.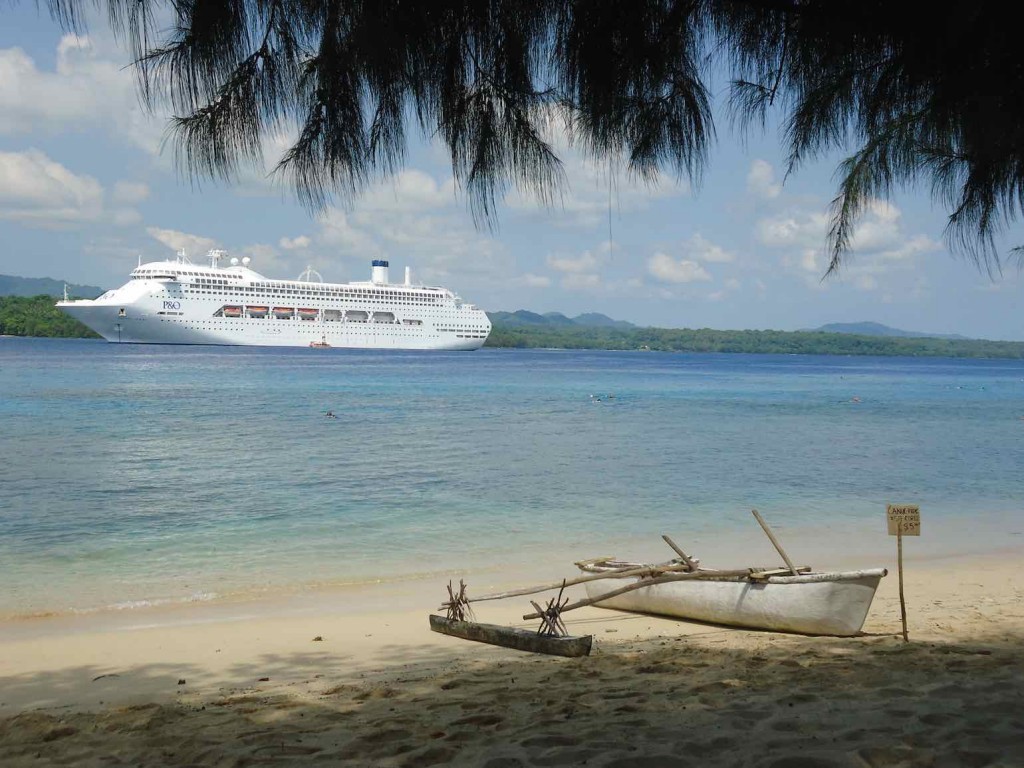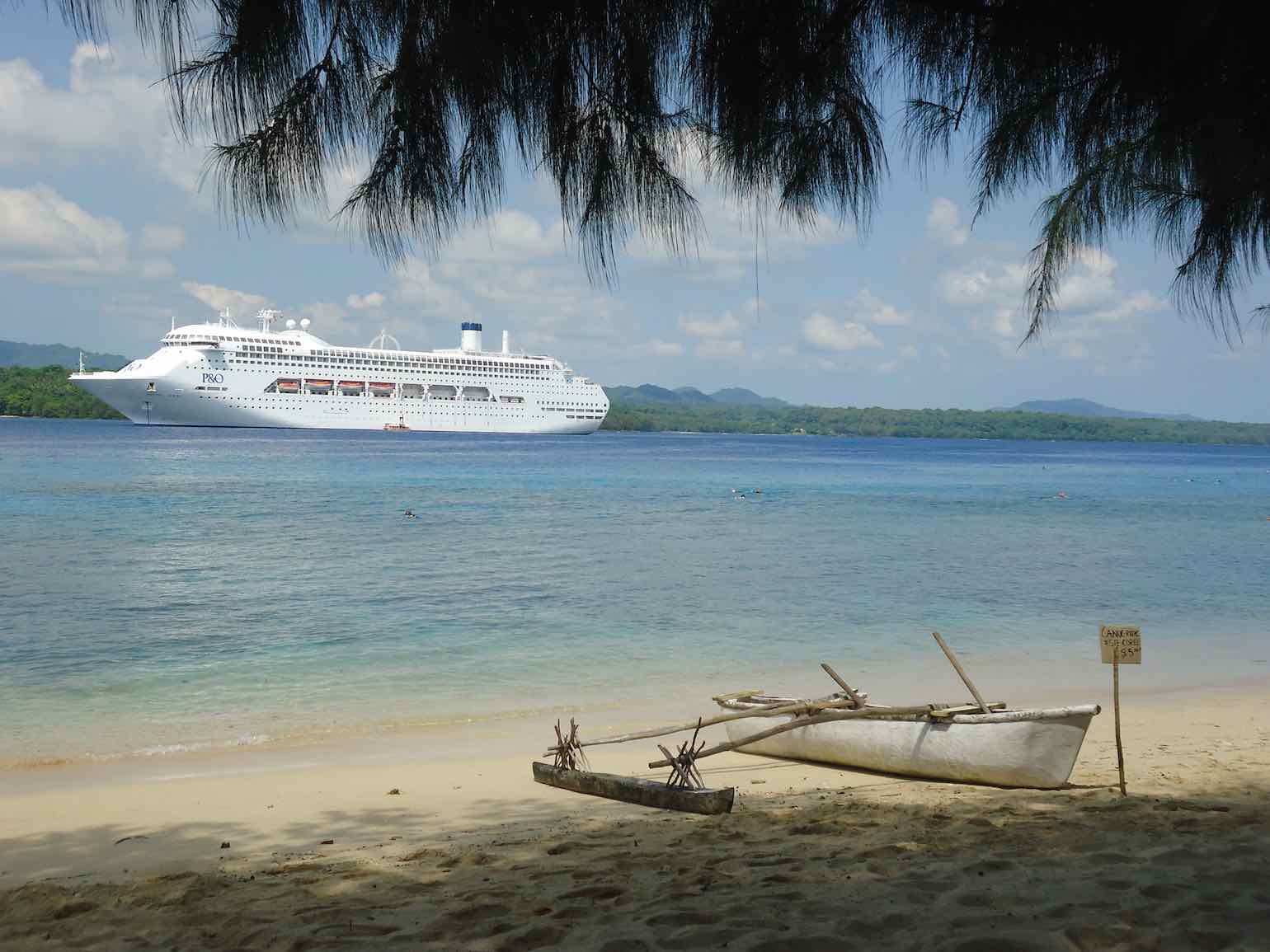 photo by Kate Ausburn
Family friendly Pacific Jewel
Pacific Jewel ensures every family member has a great cruise vacation. There are around 40 activities daily that are just for kids. Parents can register their kids for kids clubs, and there are clubs suited to various age groups. Children aged 3 to 6 will enjoy movies, scavenger hunts, disco nights, talent shows and more. There is even a recreation area with paddling pool, play area and tricycles. The Shark Shack is designed for 7 to 10 year olds, hosting competitions, entertainment and iPad activity programs. 11 to 14 year olds and 15 to 17 year olds also have their own designated areas where they can learn film making, enjoy music jam sessions, watch movies and enjoy themed dance parties.
The Pacific Jewel is part of the new look P&O Australia fleet, providing every comfort and entertainment option to make your cruise one you will never forget. Highlights include:
Luxurious refurbishments
Interconnecting staterooms
Great kids facilities and entertainments
New Zealand Natural ice cream
Circus stage and acrobatic performances
New itineraries including departures from major Australian cities
Pacific Jewel Stats
| | |
| --- | --- |
| Capacity | 1950 passengers |
| Crew | 621 |
| Decks | 11 |
| Built | 1991 |
| Max Speed | 22.5 knots |
| Length | 811ft / 245m |
| Weight | 70,310 tonnes |
| Beam | 105ft / 32m |
| Draught | 25ft / 7.90m |
| Installed power | 4 × MAN-B&W diesels, combined 24,000 kW |
Pacific Jewel deck plan
Click on the image below to download the high resolution deck plan or visit P&O interactive deck plan website (needs Flash player).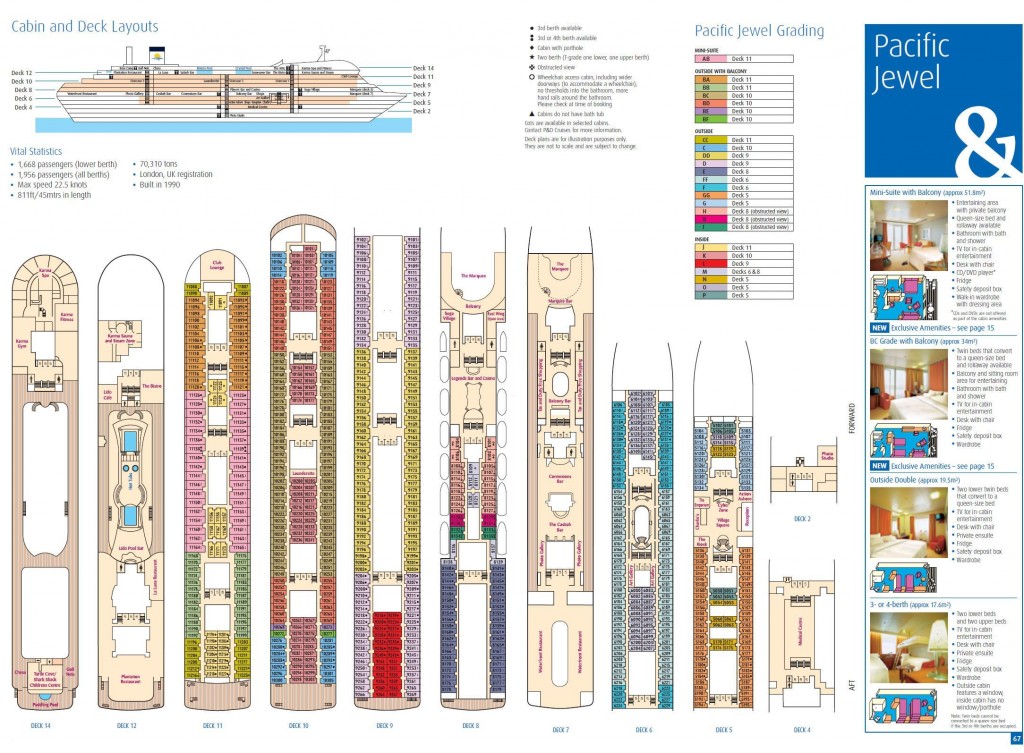 Have you sailed with P&O's Pacific Jewel? Let me know what you think in the comments!
Featured image credit: Lee Gilbert