In order to make your cabin search more manageable, it's important to understand there are actually only four cabin styles which are then categorised according to slight variables. The common cabin choices on any cruise ship are:
Inside: usually a smaller room located internally, with no window or balcony
Outside: approximately the same size (or slightly larger) than an inside cabin, with a window view of the ocean and scenery
Balcony: an outside room with a balcony for conveniently enjoying the sunshine and sea air without the need to go to a public deck
Suite: these larger cabins usually contain separate bedroom areas and upgraded facilities and amenities.
These four cabin categories are marketed according to size, location, view and price. Booking a cabin that suits your requirements for the best available price is a task that requires some research of the ship's deck plan. Considerations include:
privacy and peacefulness
mixing and mingling with other passengers
proximity to pools and attractions
avoiding potential motion sickness
pampering and splurging
budget travelling
The location of your cabin
There are several important factors to consider when choosing your cabin location. These are worth researching; and remember, all cruise ships are built differently, so a thorough investigation of your chosen vessel is important.
Higher decks toward the front and at the rear of the ship experience more sway and roll. If you or anyone in your group is prone to motion sickness, a lower centrally located cabin could be the best choice. This advice is relevant for both inside rooms and balcony cabins.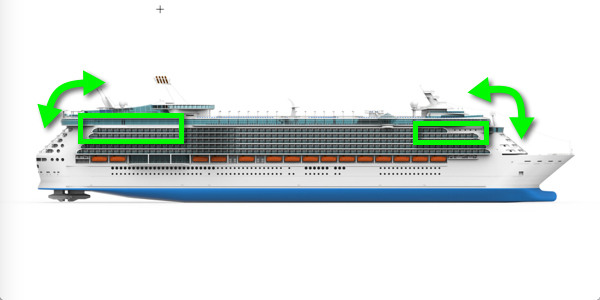 Entertainment areas are usually midship, and pools are naturally on the upper deck. Some cruise ships are huge, and the distance required to travel back and forth to a distant cabin can get irritating. Remember though, that a cabin too close to nightclubs, restaurants or pools can result in noise late at night or early in the morning, plus a lot of people walking past your cabin at all hours. Passengers with mobility concerns are usually happiest if their cabin is close to an elevator.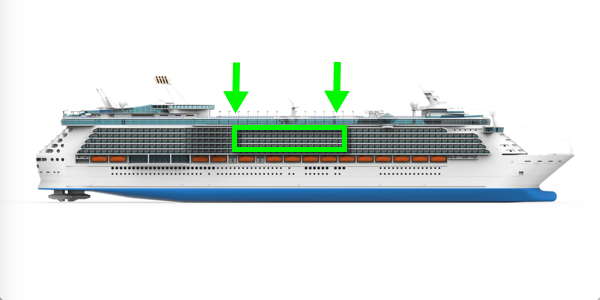 Other noise considerations include cabins located close to staff service areas such as housekeeping departments or service elevators. Nearby self-service laundrettes can also be disturbing, as is engine noise in low cabins toward the back of the ship, or bow thrusters close to low front cabins. Actually, the quietest cabins are often those that are surrounded by other cabins both above and below, unless the neighbours from hell move in next door.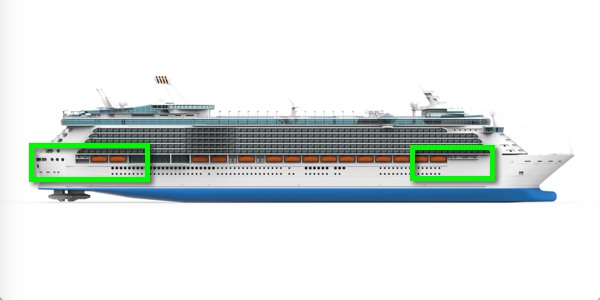 Cruise ship stateroom dimensions
For most people, cabin choices are related to price and paying more for facilities you don't require would be a waste of money. Depending on your itinerary, there may be no real need for a balcony in colder weather, and a simple picture window or porthole could give you that snug cruise feeling. A cruise is about the destination as well as the ship, and if you are embarking on a cruise with plenty of shore time, you may not even need an expansive suite.
Cruise lines are getting creative and inventive in maximising cabin space for convenience and comfort. Unique layouts include partitions for creating sleeping areas, split bathroom facilities and family friendly designs that include bunk beds. The cookie cutter cabin style running the length of the ship still exists, but fitouts toward the front and back of the vessel provide scope for design innovations.
Larger suites are less common, and tend to sell out quickly, so it's important to begin your research early to get what you want. Some suites have up to three bedrooms, hot tubs, living and dining areas, deluxe bathrooms and even baby grand pianos. Mini-suites, on the other hand, are usually similar to regular balcony cabins with a few extra design features.
Cruise cabin and suite amenities
Every cabin will come with basic services and amenities including cabin stewards to clean your room and make the bed, soap and shampoo in the bathroom plus air-conditioning. Added perks are available for those who want to upgrade to a suite or stateroom. Like everything in life; the more you pay the more you get, and it is simply a matter of deciding what you need and what you can afford. Additional perks can include:
priority boarding
spa cabins with yoga mats and fancy showers
special concierge services
use of exclusive lounge areas
flowers and wine
a personal butler
special menus
private pools
priority dinner reservations
fancy linen and bath products
Choosing the right cabin isn't a lottery. There are plenty of options to suit everyone, and almost everywhere onboard is accessible to all passengers, so you won't miss out on the action wherever your cabin is located. If your cabin choice is guided by individual needs related to noise, views, space and cost, your voyage will be the equal of anyone's onboard.
Featured photo by mariakraynova / Shutterstock.com
What is your favourite stateroom location? Let me know in the comments!