You've packed the perfect outfits, carefully planned the itinerary and are ready to explore the best spots at all your destinations. With everything already laid out, you're 100% set for the cruise of a lifetime, whether it's the South Pacific or the Bahamas in November.
However, not all plans go off without a hitch. Things can go south, and you might get late in catching the cruise ship.
In cases like these, it's always best to prepare beforehand. This doesn't just mean knowing the safety procedures on the ship. Not all emergencies can happen onboard.
One emergency that can happen is missing your ship during one of the cruise stopovers. It's when no amount of running can get you to the dock on time. As a result, you're forced to stand there and watch your dream vacation sail away without you.
Below, we'll answer a couple of questions you may have on how to avoid missing your cruise ship.
Will a cruise ship leave without you?
A cruise ship often has a tight itinerary to follow, making it imperative to dock and undock on schedule. This is why cruise passengers should always allot for ample time so they can make it back onboard without much worry. If not, they then face the potential dilemma of being left behind onshore.
How late can you arrive for a cruise?
While some liners wait around for passengers to catch up, these instances seldom happen. The liner may wait for a passenger if there's an emergency during one of the excursions booked through the liner itself. Otherwise, cruise ships usually leave on the dot.
The call time per liner varies. However, as a rule of thumb, passengers should be back on the ship 60 to 90 minutes before the set schedule of departure for worry-free travelling.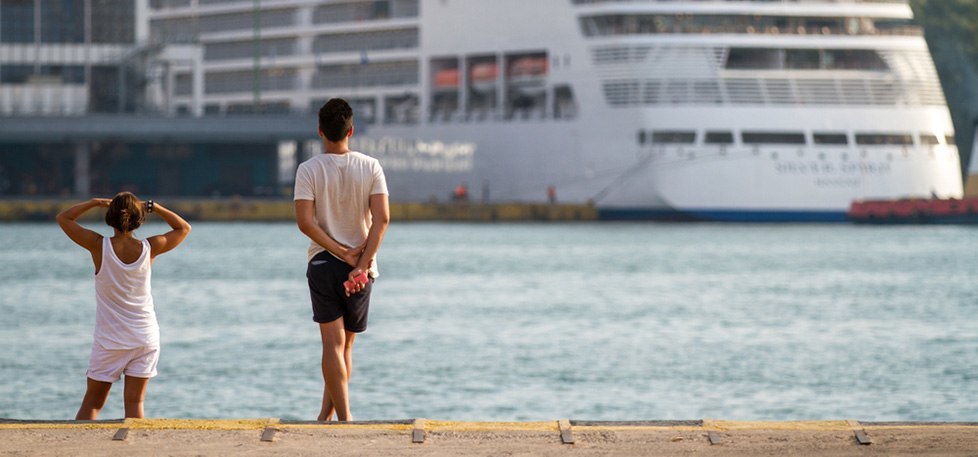 Things to remember
Below, we'll list a couple of reminders on what to do so you won't miss out on your vacation.
Check and Double-Check Your Departure Time
Be mindful of any last-minute changes in schedule. When a cruise ship arrives in a port, they usually make an announcement to notify passengers about the dock and the different onshore activities they can experience.
This announcement will also include the time that passengers must be back on the ship. Don't ignore this announcement. Itineraries could change due to many factors including course adjustments and weather considerations. Be sure to take note of the time, and write it down. Put an alarm on your phone with enough time (15–20 minutes ahead) to get to the dock and get back on the ship.
If you missed hearing the schedule through the announcement, double-check with a crew member before disembarking. One of the most popular reasons why ships leave behind passengers is that they accidentally got their re-boarding time wrong and ended up running late.
Keep Travel Documents Handy
When on a cruise, several activities and small travels are combined in one adventure. That's part of what makes it fun, but it's also part of what makes it challenging to keep track of schedules.
After all, there are many things to remember when it comes to onshore excursions. This can include the contact information of the activity provider (name, phone number or email address), the itinerary itself, the departure time and port name, among others.
To make things easier, passengers should keep all documents, such as travel insurance, ready and available at all times. This will help keep track of important times and locations. In addition to this, it will help passengers later on if they miss their ship and need to meet it at the next port. Travel documents will have all the important cruise information including port agents and other crucial details.
You can print out a copy of your itinerary and put it in your purse or travel bag. Or you can scan it and send it to your email address where you can save it to your phone. This way, you'll never be without all the information you need.
Be Prepared for Delays
Planning everything is par for the course when on a cruise. But even when knowing the schedule perfectly, remember that there are things that can throw anyone off schedule and cause delays. The public transportation can run late, heavy traffic can occur and lines at shops can run long. These are just some of the things that can keep anyone off schedule.
With that in mind, be sure to make time for unexpected delays in your itinerary. Get your shopping done early to get it out of the way as soon as possible. Plan your schedule by going to the farthest place from the ship first and working your way closer as the time to get back onboard draws near. It also helps to remember how much time it took you to get somewhere so you can allot at least that minimum amount of time to get back to the ship.
Finally, and most importantly, give yourself enough time to get back to the dock. Be aware that arriving at the dock at the sailing time is not enough time to get back onboard safely. Avoid the anxiety of having to miss your ship, and make sure you always have ample time.
Have the Ship Schedule Your Onshore Excursions
One of the most fun things about cruising, other than being on the ship, is enjoying the onshore activities whenever the ship docks. Depending on where the cruise is headed — from the Bahamas to Alaska to the South Pacific in November — passengers can enjoy an exciting plethora of activities like fishing, swimming, hiking, dog sledding, surfing and so much more.
With such a wide array to choose from, it can get overwhelming to decide what you want to do in advance. Many cruise passengers often wait until they are onshore before selecting their activities. While this gives them flexibility in terms of excursions, this doesn't guarantee that the boat will wait for them if any delays or issues arise.
As a precaution, passengers can schedule onshore excursions through the cruise liner itself. You can check out if some liners offer this, such as the Princess Cruises, the Norwegian Cruise, United Cruises or the Carnival Conquest (Carnival Cruises). If you do, the boat will wait if there are unexpected delays or emergencies that occur. Plus, when you book through the cruise liner, you'll also have an experienced guide who can steer you through any confusion and logistic concerns you may have. Most importantly, they'll also make sure you have ample time to get back to the boat.
Some cruise lines offer passengers a discount as an incentive for booking activities through them. Booking as a walk-in, however, is usually pricier.
Bring Your ID
Whenever traveling, it's always important to remember to have identification on you at all times. We all know this is key whenever we're in airports, international docks or gateways, but this is true for the rest of your cruise journey as well. Just because your vacation is already underway doesn't mean it's the best option to leave your ID in the hotel room (or in this case, your cruise cabin).
When going on land excursions away from the ship, don't forget to bring a valid ID just in case. If the cruise ship leaves you behind, you need to identify your available options. One of those options may be booking transport to catch up with the cruise liner at the next stop. To do this, you'll need to have your ID on you. And if you need to catch a flight, a passport may even be required if the next port needs international transfers.
Generally speaking, it's always important to have some form of identification to avoid any problems you might encounter. This may include transports, hotel bookings and credit card verifications. Additionally, a copy of your travel insurance is good to have on you too just in case you need to share this information during the rebooking process.
Travel with a Credit Card
Having said that, don't leave home without a credit card. Today, most bookings will require one. This can be difficult for people who don't like using credit cards and prefer to use cash or for people who don't have credit cards to begin with.
However, a credit card can serve as a handy backup during travels. This is especially true for cruise passengers who may face unexpected expenses throughout their stay.
One of these unexpected expenses may crop up if you miss your cruise ship while enjoying onshore activities and shopping. You'll then need a credit card to ensure you have sufficient funds to make arrangements while you are onshore and yet to make it back to the boat. This includes potential hotel stays, additional flights and expenses like meals, transportation and communication costs.
Do Some Research Ahead of Time
Most cruise lines will no doubt give you all the information you need about excursions you can enjoy while on your vacation. And while this is vital to help you plan your itinerary, it doesn't always paint a complete picture.
Other than the information the cruise will provide, do your own research on events and activities that interest you. Remember that activities for November days will be different from, say, June. Read articles online or join different cruise forums to see what people say about certain locations and seasons.
From first-person reviews about different activities, you can make your schedule more effectively with input from other travellers. After all, no one is more honest than a guest who has seen and done these activities first hand. So, cull important information from the crowd. Using this firsthand data, you can come to an informed conclusion about activities and itineraries.
What happens if you miss your cruise ship?
Even when keeping in mind the above tips, sometimes the unexpected happens. In such instances, the passenger may reach out to port agents. They usually have a set protocol on how to help passengers reach the cruise ship at the next itinerary. However, all the fees for travel, hotel arrangements or food usually rest on the passenger and won't be carried by the liner. This is why it's best for passengers to carry important documents with them at all times, such as passport, travel insurance, other means of identification, credit card or extra cash.
What do you do if you miss your cruise?
Don't Panic
At the end of the day, no amount of planning and careful execution can prevent mishaps and emergencies from happening. Sometimes, despite trying to ensure the contrary, passengers might miss their departure in the middle of a cruise.
As you stand on the dock watching the ship sail off, it's natural for panic to arise. However, don't let this panic take control. If you've been left behind, the first step is to talk to the port agents at the cruise terminal. Ask them for help on how to re-join the boat. They can help determine the best course of action depending on the location and cruise liner.
All's Well That Ends Well
At the end of the day, you just have to do the best you can in terms of planning and executing your itinerary, whether it's for the month of November or the month of April. Don't let potential delays, or possibly getting left behind, deter you from enjoying the exciting activities and beautiful sights to see on docking days.
Just do your best to follow the schedule and you should have no problem. But if you end up late and the worst case scenario happens, don't panic. Remember that you have options.
Lastly, no matter how terrible or lousy you might feel, you're definitely not the first person to be left by their cruise ship. With the appropriate measures, you'll be able to get back onboard in no time to enjoy shuffleboard and all-night margaritas in the company of loved ones.
Here is Royal Caribbean's offical FAQ about the issue.
Has it happened to you? How did you get back on the ship? Let me know in the comments.