Measuring 64 meters wide and 362 meters long with nearly 7,000 passengers, Royal Caribbean's Wonder of the Seas is the largest cruise ship in the world. Exploring all 18 decks seems like such an exciting adventure. However, splitting up and letting the kids explore the ship on their own aren't exactly great ideas. Imagine getting lost in a ship that huge!
If you don't want to spend your entire vacation looking for your travel buddies, you ought to set up ways to stay in touch with them throughout the cruise.  Unfortunately, you won't always be able to call or text your travel buddies while you're at sea. On the bright side, there are several alternative options to keep in touch with friends and family throughout the cruise.
Here, you'll discover an affordable and convenient way to communicate on a cruise ship — walkie talkies.
What is the Best Way to Communicate on a Cruise Ship?
Figuring out the best method of communication that works for your travel squad is crucial. Everyone has to agree on it before embarking on this cruise. That's because you have several options to choose from. Some methods are budget-friendly, while others are quite expensive.
Even in the most advanced cruise ships in the world, communication is an issue for the average passenger. There are a few cruise liners that offer free or paid communication apps. Most vessels also provide internet connectivity. It is available for free mostly at cruise ports. But at sea, you have to pay for it. Rates can go up to $20 per day for a single device to be connected to the internet.
Your service provider might have the perfect offer for your travel needs. Hence, get in touch with them and inquire about their cellular plans. It's not going to be cheap, but it might be worth it.
Walkie talkies, on the other hand, are more affordable. You and your travel buddies can use them to talk to each other while on the ship. Of course, not all walkie talkies are made equal. Hence, you've got to do your research to find the best ones for your travel needs.
Are Walkie Talkies Allowed on Cruises?
Walkie talkies, also known as two-way radios, are allowed on-board cruise ships for your personal communications. On a Royal Caribbean vessel, the basic requirements they recommend include a 10-mile coverage range, about 5 watts of power, operated transmission and an internal voice. An external mounting antenna isn't necessary.
There are four different categories of portable hand-held radios which you can use on cruise ships: FRS, GMRS, eXRS, and UHF radios.
Cruise lines have varying rules and regulations. It's always best to ask them about the kinds of walkie talkies that are allowed on-board their vessels.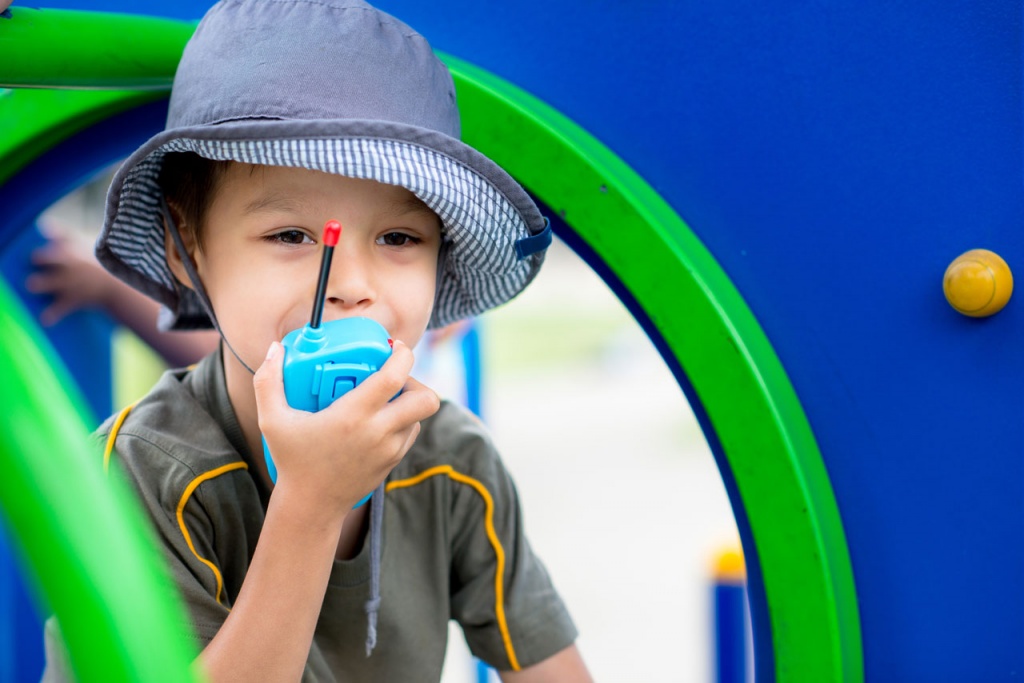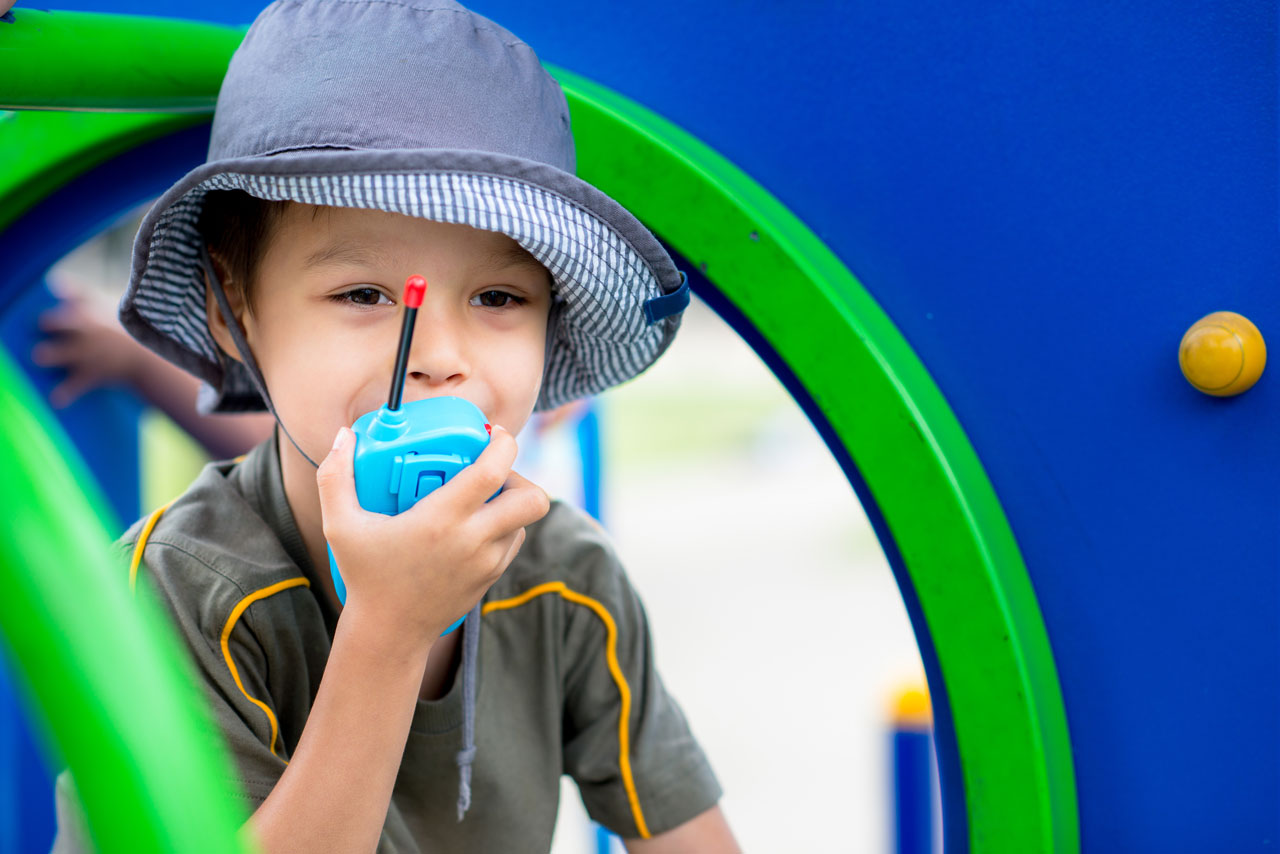 What Kind of Walkie Talkies Work on Cruise Ships?
FRS Radios 
Family Radio Service radios operate on 1 to 14 channels. They use FM waves instead of AM waves. Compared to GMRS radios, these are quite cheaper and easier to use. Anyone in the family won't have trouble using one. Since an FRS radio doesn't require a license, everyone in the family can use it while on vacation.
FRS radios have a maximum allowable power of 2 watts. They are ideal for private short-distance communications.
GMRS 
Unlike FRS radios, General Mobile Radio Service systems are higher-powered devices. Their maximum allowable power is 60 watts. These radios also offer wider coverage. Some can cover a 2-mile radius, while others can range up to 5 miles.
GMRS systems require a license, which cost about $50 to $80. If you want powerful two-way radios, you might want to invest in GMRS. Your license will last for 5 years.
eXRS Radios 
Extreme Radio Service radios are the most recent addition to the world of wireless communication. They are advanced versions of FRS radios. Some of these systems are even more powerful than existing GMRS radios in terms of range and connectivity. 
UHF Radios 
Ultra-High Frequency radios operate at 400 to 512 megahertz. That means these radios can easily penetrate obstructions like the watertight steel doors of the ships.
Performance and Range: How Well Do Walkie Talkies Work on Cruise Ships?
Your ability to communicate on-board a cruise ship using walkie talkies depends on several factors, including the device's maximum power output, the antenna design, the weather and the obstructions around you.
Instead of focusing on the radio frequency ranges that brands advertise, you ought to consider the specs. That will tell you everything you need to know about a radio's performance and range.
Take UHF radios for instance. Thanks to their high power output, they can do a better job of penetrating obstructions around the ship such as doors and walls. This feature enables it to cover a wider area on the ship, including rooms and other indoor spaces.
Will Radios Cover an Entire Ship?
Walkie talkies are far from perfect. Some basic handheld radios can't cover an entire ship. Sure, you can reach your travel buddies in various areas of the vessel. However, both of you have to be outside your cabins and other closed-in rooms to be able to reach each other on your walkie talkies. Cruise ships are larger than ever, which also means that there are more obstructions on-board. Swimming pools, watertight doors and thousands of passengers may interfere with the walkie talkies' signal.
If you want to reach your travel buddies even when you're inside cabins or closed-in areas, you might have to invest in powerful two-way radios. These devices are good investments, especially if you go on cruises often. High-end commercial walkie talkies have better range and specs.
Can Other People on the Ship Listen to My Conversation?
Yes. Other passengers can tune into your channel unknowingly. If that happens, then all you have to do is switch channels. You can prevent this from happening. Since several people on board will also be using walkie talkies to communicate with their travel buddies, you ought to choose models with multiple frequencies.
Some radios boast features which they call privacy codes. To note, this feature only reduces the noise that you hear from other people. It doesn't prevent them from listening to your conversations.
Best Walkie Talkies for Cruise Ships
Disclaimer: As an Amazon Associate I earn from qualifying purchases.
Arcshell Rechargeable Two-Way Radios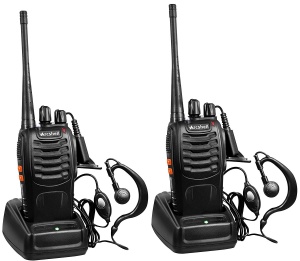 Weighing only 6.3 ounces, Arcshell's rechargeable walkie talkies are lightweight, ideal for your adventures at sea. These are also quite small. Measuring 4.53 inches in length without their antenna, the radios fit easily in your hand and your pocket.
The Arcshell AR-5 two-way radios come with high-quality built-in speakers, which make every conversation crisp, clear and loud. If you don't want to bother other passengers on-board, you and your travel buddies can use earpieces. Each radio comes with a single earbud with a microphone, as well as a push-to-talk button.
Operating on a UHF range of 400-470MHz, the Arcshell AR-5 boasts 16 programmed channels. A synthesised voice tells you the channel number every time you turn the knob. Their range depends entirely on the terrain which, in this case, is the cruise ship. With fewer obstructions and congestion, the radios boast a 5-mile range.
The radios support fast charging, taking only 2.5 hours to fully charge. As for the battery, it lasts about 8 to 96 hours. Other features include water resistance, an emergency alarm, a LED flashlight and VOX function.
Midland GXT1000VP4 Two-Way Radios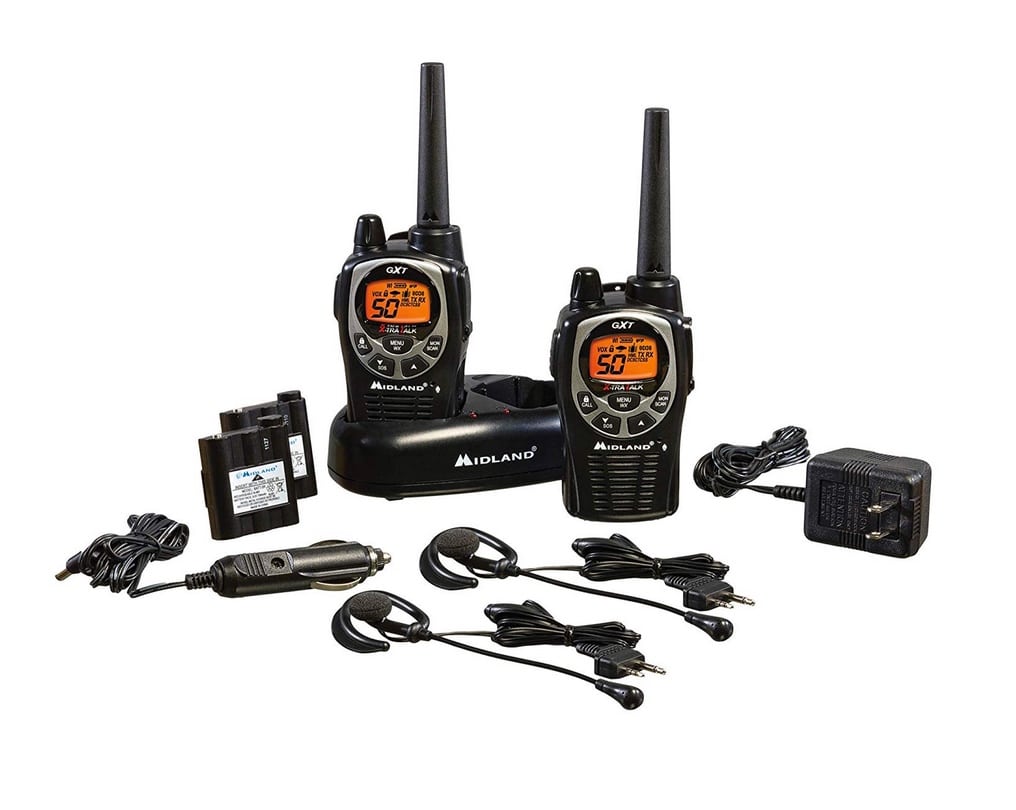 Made by one of the leading companies in wireless communication, Midland, the EX37VP two-way radios are long-range and ideal for emergency preparations. They are well-suited for exploring large cruise ships. These walkie talkies come with a kit that contains multiple useful tools and a hefty price tag to match. But these devices might just be what you need to experience a hassle-free cruising experience with your friends and family.
Heavy-duty and reliable, the Department of Homeland Security recommends these emergency walkie talkies. Called as the E+Ready radios, these devices can be used for any sort of emergency situations you can think of—such as tropical cyclones, earthquakes, tornados, fires and other disasters, natural or otherwise. Midland's powerful two-way radios have a 26-mile range. The devices are built for FRS operation and offer about 22 channels. Midland also equipped these radios with 38 privacy codes to help you drown out all the noise from other users.
Aside from privacy codes, the EX37VP also has an NOAA weather alert and a Voice Operated Exchange feature for hands-free purposes. Included in the radio kit are nifty tools such as batteries that can be charged up to 12 hours, temperature gauge, whistle and flashlight.
Retevis H-777 Two-Way Radios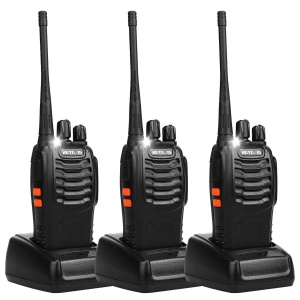 Travelling with a huge group of people can be quite challenging, even when you're stuck in the same boat in the middle of the sea. Now, you and all your travel buddies can stay in touch with each other using the Retevis H-777. These two-way radios come in packs of 10, which makes them ideal for families and friends looking for affordable devices that everyone can use.
Retevis' walkie talkies operate on a UHF frequency. They provide 16 channels, each of which has about 50 CTCSS encryption codes. These features reduce interference from other passengers and keep your communications clear and safe. Using these two-way radios, every message you want to send will be transmitted clearly and smoothly to the rest of the group. Thanks to its voice prompt function, you can easily switch between channels or remember your group channel. 
The H-777 supports fast and convenient charging. With USB charging capabilities, you can plug your device in a laptop or an outlet using an adapter. Equipped with a 1000 mAh battery, this model has long-lasting battery life. On a single charge, your device can reach up to 72 hours.
Ansoko Long-Range Walkie Talkies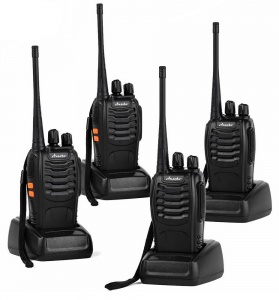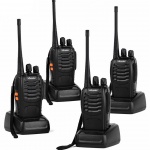 Measuring 4.72 x 2.16 x 1.2 inches, the Ansoko long-range walkie talkies are ultra-portable and easy to use. They operate on a UHF frequency, which means these devices receive less interference. Not to mention, they are more likely to transmit your message to your travel buddies, even with concrete, wood or non-metal walls obstructing your communication. Knowing all that, you should use the Ansoko walkie talkies if you want to use them in your cabins and in other indoor areas.
Ansoko's walkie talkies have a 4-mile range. However, the actual range will depend on the environment in which you plan on using these devices. Factors such as weather, terrain and obstructions influence the coverage. These devices can operate in areas without cell phone reception. Whether you want to communicate with your travel buddies indoors or outdoors, you can do so effectively with these reliable two-way radios.
It takes about 4 to 5 hours to charge a single device. With continual use, your radio can last about 8 to 12 hours. If you use it sparingly, its battery should last an entire day or two.
Topsung M880 Two-Way Radios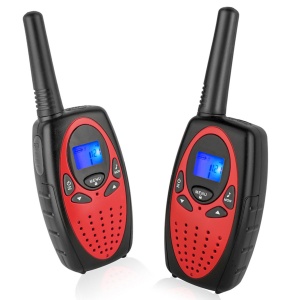 The palm-sized Topsung M880 is a lightweight and user-friendly two-way radio with smart features. Equipped with an auto squelch system, the device eliminates unwanted background noise, giving you nothing less than crisp and clear audio. It has a memory function, which remembers all your settings after you turn off your walkie talkie. A power saving mode automatically turns the device off when it's not in use, allowing you to conserve and maximise its energy. Whenever the batteries need changing or charging, you will be alerted by its notification system.
Topsung's M880 has a long sound range of about 2 to 3 miles. It offers 22 main channels and around 121 privacy codes, giving you about a total of 2662 combinations. With the Topsung two-way radios, you and your travel buddies can enjoy secure and convenient communications.
Other features include an LCD screen with backlight, a 2.5 mm earpiece jack, a keypad lock and a belt clip. On top of all that, Topsung made its M880 radios with durable and environmentally friendly materials, perfect for eco-conscious consumers.
Did we miss your favourite walkie talkie? Let us know in the comments!