Do you like to cruise in style? There are luxurious cruise ships and private yachts that can take you around the world in an adventure you'll never forget for the rest of your life. From five-star dining and world-class performances to insane underwater experiences in a submersible, luxury cruises offer nothing but the best for their guests. If you have money to burn, you might as well sign up for a luxurious cruise around the world.
Here, you will discover eight of the best luxury cruise lines in the world, all of which have inimitable style, excellent service and binge-worthy gastronomical adventures.
Seven Seas Explorer, Regent Seven Seas Cruises
Christened on the 13th of July, 2016, the Seven Seas Explorer was made by Fincantieri, Europe's largest shipbuilder, for Regent Seven Seas Cruises. This luxury liner accommodates about 750 passengers and 542 crew members. It might not be able to serve 5,000 passengers like some mega-liners, but it's the largest and the most luxurious vessel in Regent's fleet. Perhaps it's even the most luxurious cruise ship in the world.
The Seven Seas Explorer spends travelling cooler destinations in Northern Europe like Norway and Russia during hot summer months, while it sails across Asia during winter months. Often, it also goes around the Mediterranean coastlines of Italy, France and Spain.
Luxury cabins
Much like any of Regent's vessels, this luxury liner only offers suites. It has 375 of them to be exact, divided into 16 different categories. Not to mention, all of these suites come with a private balcony. The Regent Suites are their largest private rooms on board, measuring 3,875 square-feet. Of course, these suites aren't only the largest on the vessel but also the most expensive.
Culinary treats
There's no shortage of luxury culinary experiences on Regent's most luxurious cruise ship. Here, there's a little something for everyone. Around the vessel, you'll find all sorts of culinary traditions and experiences. You can dine at La Veranda, where panoramic views of the ocean are just as sought-after as their breakfast menu. Or, you can customise your dinner menu at Compass Rose, Regent's largest specialty restaurant.
Entertainment
After an exciting day ashore, you can fill your evenings with laughter and joy aboard the Seven Seas Explorer. From cabaret shows to karaoke, no night is ever dull while you're with Regent cruises.
Crystal Serenity, Crystal Cruises
Bask in a truly luxurious experience while you're out at sea with Crystal Cruises, the world's most awarded luxury cruise line. Crystal Serenity is the largest and most luxurious cruise ship in their fleet. It can fit around 980 passengers.
Luxury cabins
Crystal Cruises offers butler-serviced suites, as well as penthouses. Their staterooms are just as delightful, most of which come with a private veranda. With lush amenities and ultra-comfortable spaces, this luxury liner is the perfect home away from home.
Culinary treats
Several Michelin-level restaurants are found all over the vessel, serving different cuisines from around the globe. You can grab a bite at Umi Uma & Sushi Bar, and indulge in Chef Nobu Matsuhisa's most well-loved creations. After an exhausting day ashore, you can head off to Palm Court, a Mozart-themed restaurant where you can enjoy evening cocktails and dancing.
Entertainment
Evenings are always fun at Crystal Serenity. World-class talents from all over the world provide premier entertainment night after night. While you're on board, you can still watch the latest A-list movies in a theatre. You may also watch lavish Broadway-inspired acts at the Galaxy Lounge.
Riviera, Oceania Cruises
Also built by Fincantieri, the MS Riviera set sail for the first time in May 2012. This luxurious cruise ships unique opulent touches added by Ralph Lauren Home. About 1,250 guests and 800 crew members can fit aboard the vessel. The remastered Riviera was announced on 30 May 2019 (here).
Luxury cabins
Furnished with Ralph Lauren Home, the Riviera's most exquisite suites reflect classic Hollywood glamour and the designer's love for sailing. Every single detail that makes up the guests' living quarters were selected carefully. This might be one of the most high-end cruises in the world, but it still exudes the same charm and casual ambience of the renowned Regatta and Insignia.
Culinary treats
MS Riviera offers a myriad of dining venues, six of which have open-seating gourmet restaurants. At La Reserve, you can experience food tastings and gourmet pairings. You may even participate in seminars as well. The vessel also has a hands-on culinary school called The Culinary Center, where you can learn cooking lessons from master chefs.
Entertainment
Guests can learn a thing or two about the arts in the Artist Loft. Here, professional artists offer step-by-step instructions on photography, printmaking and so on. Oceania Cruises also had a number of intimate spaces made around the ship to give guests like you little relaxing escapes at sea.
Viking Star, Viking Ocean Cruises
Built in 2015 for one of the most high-end cruise liners in the world, Viking Ocean Cruises, this vessel only serves a maximum of 930 guests. Viking Star offers its passengers luxury, class, elegance and personalised service. On this luxury expedition, you can explore some of the best destinations around the world. With Viking, you can travel from New York to the West Indies. You can follow the trade routes of the Middle Ages or explore the antiquities of the Mediterranean.
Luxury cabins
Viking Star is an all-veranda ship, with different kinds of staterooms to suit the varying needs of their guests. No matter what you choose, you'll have an abundance of amenities and perks, including king-sized beds, large private bathrooms and 24-hour room service.
Culinary treats
At Viking Star, guests can indulge in different dining experiences. From five-course dinners at the Chef's Table to hearty filet mignons at The Restaurant, there are several options on deck to satiate all your cravings.
Entertainment
On the 2nd deck of the ship, you'll find The Star Theater, where you can be entertained with production shows, films and occasional enrichment lectures. The vessel also has pool space, bars and lounges, sun decks and fitness centres.
Seabourn Ovation, Seabourn Cruises
One of the most high-end cruise lines today, Seabourn Cruises, owns Seabourn Ovation, a 210 metres long ship which can accommodate about 600 passengers. This vessel was modelled after newer ships in the fleet and it is the sister-ship to the already prestigious Seabourn Encore. It features ultra-posh designs that are usually only seen in luxury yachts. As you can expect from a pioneer of small luxury cruises, Seabourn Cruises delivers intimate immersive voyages to some of the most remote corners of the world.
Luxury cabins
Seabourn Ovation has four different suite categories: veranda suite, penthouse suite, penthouse spa suite and owner's suite and above. Each of these four types varies in terms of size, amenities and perks. But you can expect each one to present a relaxed, pampered environment, which you will truly remember for the rest of your life.
Culinary treats
You're in for an exciting culinary adventure when you hop on board the Seabourn Ovation. You can get a meal at The Grill, a 50s and 60s-inspired restaurant, which serves a modern twist of some of the decade's most iconic dishes. If you want a more casual dining experience, you can head off to The Colonnade. There, you will be served regionally-themed dishes each night. If you want a refreshing cocktail, the best place on-board is The Sky Bar. You can sip refreshing tropical drinks under the stars.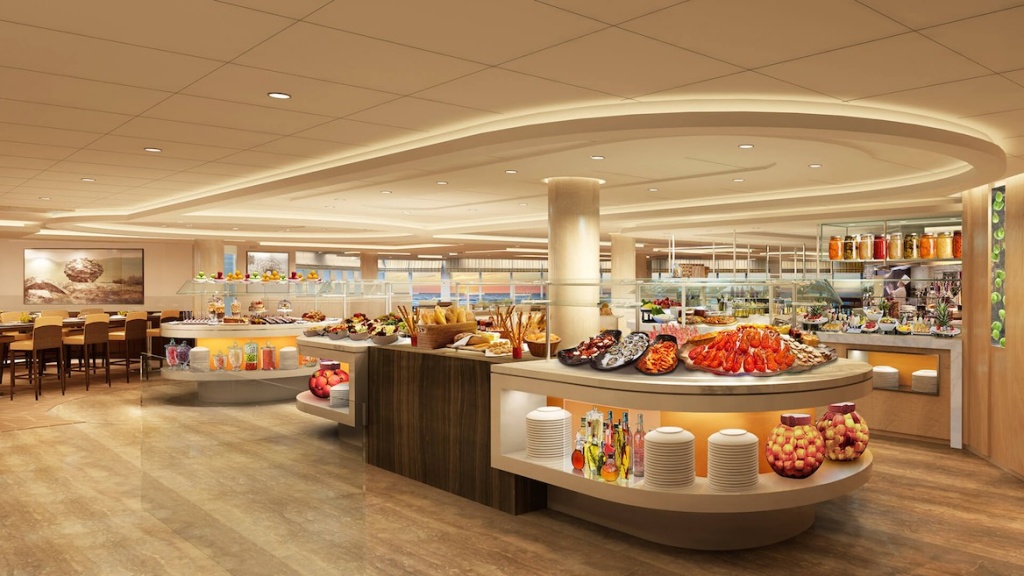 Entertainment
While you're on vacation, you can still stick to your daily workout routine. Seabourn Ovation has state-of-the-art facilities at their fitness centre. They also offer guests complimentary classes for yoga, Pilates, Tai Chi and so on. There are also personal trainers on deck who can come up with nutrition and exercise plans, so you can indulge and enjoy yourself guiltlessly while on vacation.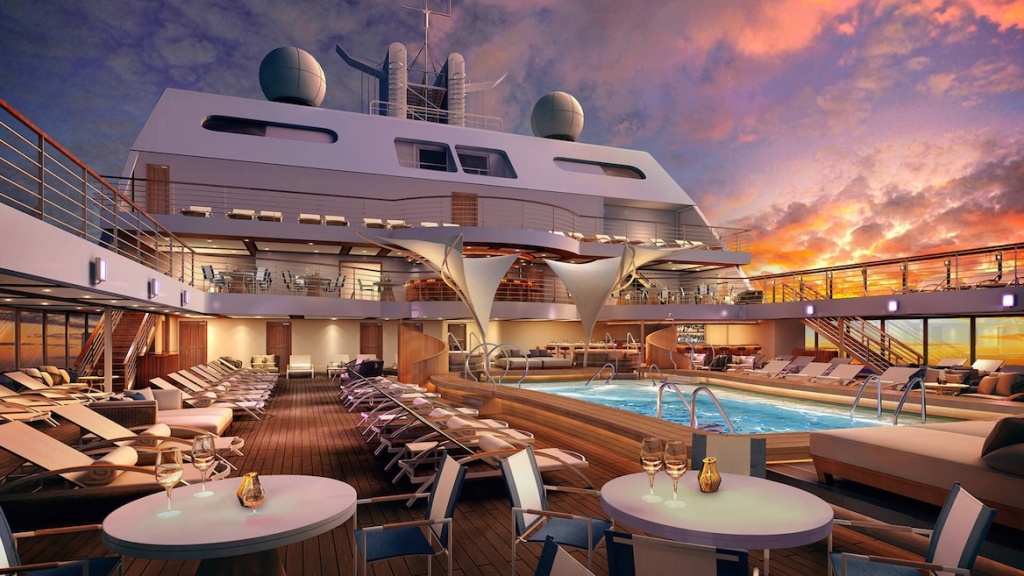 Silver Muse, Silversea Cruises
Another luxurious cruise ship created by Italian shipbuilder Fincantieri, Silver Muse can take about 596 guests around the world. From old-fashioned whisky bars and relaxing spas to art exhibits, Silver Muse has everything you need for a relaxing fun-filled vacation.
Luxury cabins
Silver Muse offers different kinds of luxury accommodations to fit the needs of every family and passenger on board, including Veranda suites, Owner's suites, Royal suites, Grand suites and Silver suites. There are two-bedroom settings, perfect for small families. One-bedroom layouts are also available for solo travellers and couples on a romantic retreat. If you want an insanely luxurious cruise, you can book the Royal Suite. It has opulent furnishings, premier amenities and a private terrace with expansive views of the sea.
Culinary treats
At Hot Rocks, you can cook your own meals right at your table using oven-heated volcanic stones. There are several other gastronomical experiences waiting for curious foodies on-board. Most of the restaurants you will find on deck are inspired by cuisines from around the globe. One of the best places to eat a hearty meal to fuel your everyday excursions ashore is a French restaurant inspired by Relais & Chateaux.
Entertainment
This small luxury liner might not have multi-storey waterslides, but it does offer a multitude of entertaining treats for every kind of guest. Silver Muse's fitness centre comes with state-of-the-art equipment, where you can continue or start your fitness journey with the help of a personal trainer. Dancing and tapas-style dining is also an option that's available to guests at an intimate venue called Silver Note.
Crystal Esprit, Crystal Cruises
Crystal Cruises offers one of the most intimate and luxurious expeditions to iconic yachting destinations across the Dalmatian Coast, Greek Isles, Seychelles and the West Indies through Crystal Esprit. This vessel offers 62 passengers the adventure of a lifetime.
Luxury cabins
In your private sanctuary, you can relish in pure comfort, while admiring panoramic views of the world around you. There's also a butler, who can tend to your needs throughout this journey. With Crystal Esprit, you can choose between a Yacht suite and an Owner's suite.
Culinary treats
Aboard the Crystal Esprit, guests can experience culinary delights from different regions of the world. They offer Michelin-level restaurants to satiate your palate. At the Yacht Club, you can dine on the cruise's classic specialties and their most sought-after innovative dishes. They also have a self-service bistro called The Pantry, where you can indulge in wines, coffees, fresh pastries and more 24-hours a day.
Entertainment
To satiate the wanderlust of its sophisticated passengers, Crystal Cruises offers only the most lavish ways to experience the world. From complimentary snorkelling and kayaking adventures to optional rides on a submersible, Crystal Esprit is the epitome of luxury yachting. On board, you can also enjoy motivating lectures, live performances from local entertainers and even spontaneous dance parties.
SeaDream II, SeaDream Yacht Club
SeaDream Yacht Club offers one of the most luxurious cruises in the word – SeaDream II. This private cruise line is perfect for weddings, corporate meetings and other important celebrations in your life. This yacht can accommodate about 112 guests and 95 crew members.
Luxury cabins
Measuring 447 sq. ft., the Owner's Suite is the largest on deck. It comes with a private master bedroom, a large bathtub, a dining room, a living room and it even has a guest bath. The vessel has a total of 54 staterooms, of which 16 can be converted into eight Commodore suites.
Culinary treats
Every meal is carefully prepared by expert chefs and sommeliers. The Signature SeaDream dining experience boasts a 5-star service, with selections like filet mignon, succulent lobster and delectable desserts. Meals are served fresh at the yacht's Topside Restaurant or the Dining Salon. Guests can also choose healthier meals. Whether it's raw, vegan or organic, the chefs at SeaDream can prepare anything you might need.
Entertainment
There's no better place to relax and unwind. At the SeaDream II, you can have a relaxing spa day with your friends or your significant other. There's also a fitness centre, where you can practice yoga and Tai Chi.
Did we miss your favourite top-end cruise ship? Let us know in the comments!