You probably think that all cruise ships have the same attractions for kids – but they actually vary quite a lot. If you are planning on a cruise vacation with your family, there are ways to make it lots of fun for everyone, and some ships have great kids programs as well. The original article was published on Yahoo Travel, written by Wendy Perrin, and I summarised the most important tips and added a few of my own.
Book a cabin on a high deck near the back of the ship
One thing you will quickly learn is that a lot of kids and family entertainment is located at the back of the ship. This part of the ship is called the 'stern' or the 'aft'. Try to book a cabin that is only a couple of levels below exciting features such as the kids' club, pool and buffet. Cruise ships are huge and if your cabin is near the front you will have to go back and forth every time you want to have some fun. If you book a room on a low deck there will be a lot of waiting for the elevator.
Get a room with a sofa bed
A sofa bed is a large couch that transforms into a bed. This means that your family will have plenty of relaxing room during the day and an extra bed at night. Some cabins are not very large and extra beds fold out quite high up the wall. This can be a problem for restless sleepers who might fall out, and they can be a bit crammed for adults. My family prefer to book a sofa bed room instead of one with fold-out beds.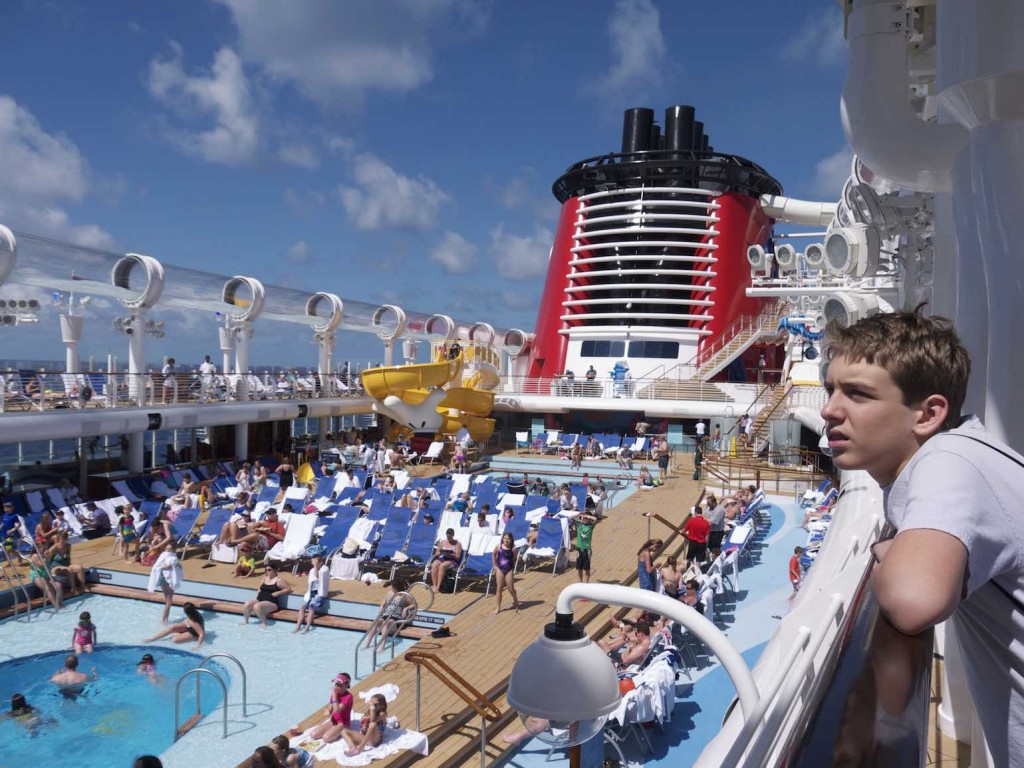 Try to get a room with a balcony
If there are only one or two people in a cabin there will be plenty of room, but for an entire family of four I recommend a cabin with a balcony. It's great to step outside the room and watch the ocean while enjoying the breeze and fresh air. You will also get the opportunity to see some amazing sunsets and enjoy the view when coming into port. On the other hand, be very careful when playing on the balcony, because cruise ships don't turn back to pick up lost toys and leaving behind a floating red ball is a sad memory.
Book a cruise ship with a good kids pool and waterslide
Some cruise ships have pools that are just for kids so you can play around without disturbing the adults. There are also big waterslides at some pools where you will probably want to spend a lot of time. Make sure you check height limits to avoid disappointment if anyone in your family is too short. And make sure to pack your goggles so you don't get too much salty water or chlorine in your eyes.
Have buffet meals or later dinner seatings
Early seating means you will need to be at the restaurant by 5:30. To get there on time you will have to leave the pool or kids' club by 5:00. A better option is to eat in the buffet, especially because you can choose the food you like best. Later seating lets you have a buffet meal, with more time at the pool beforehand and a return to the kids' club by 7:00 for some extra fun. It will suit your parents also because they can take their time to eat dinner together at a later seating.
Poolside food is another awesome choice
You don't always have to eat dinner at the buffet. Some cruises have great food by the pool also, including burgers, hot dogs and even ice cream. You can even stay in your swimsuit and have dinner while relaxing on your beach chair, which you "booked" with a towel well before sunrise (irony here, don't do it!).
Find a kids' club that opens all hours
Some kids' clubs don't close during lunch and dinner, which is a good idea because kids don't take two hours to eat. Disney ships are designed with kids in mind and there is always something to do. Kids' clubs are a great alternative to the pool, and you will get to meet other kids around the same age as yourself. Also, some clubs allow you to check yourself in and out, meaning you won't get bored and you don't need to interrupt your parents every time you need to be picked up.
Family activities are fun too
On Norwegian Cruise Line there are family activities every day, including the "Family Challenge" and scavenger hunt. It's fun to see how parents get excited when they compete against other families. Some activities are only for adults, so it's a good idea to research different cruise ship activity options.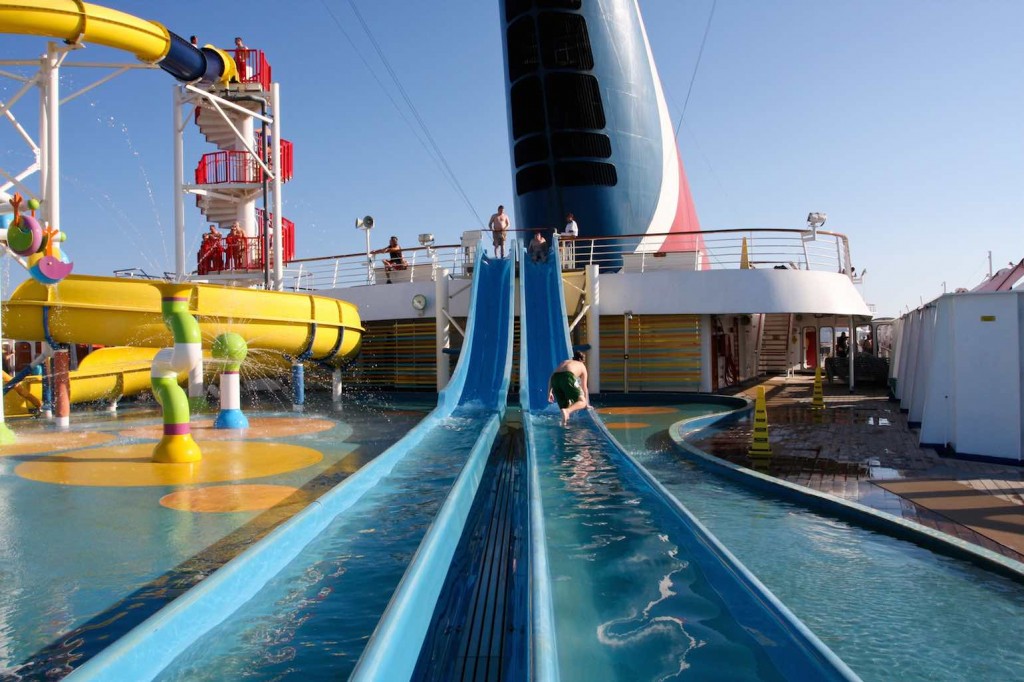 Every ship has lots of sports activities
The range of sports and competitive activities on cruise ships is enormous. Apart from fun in the pool there will be sports like basketball, Pin-Pong, mini golf, shuffle-board, and even ten pin bowling. All ships are different, so check before you make a booking so you know exactly what games and sports activities are onboard.
Let the fun begin on day one
The first day of a cruise is called embarkation day. It's a good day to explore the ship and find out where everything is, because most activities like the kids' club don't open straight away. It will also take several hours before your luggage arrives in your room, so remember to pack your swimsuit in your carry-on luggage. At least you can head to the pool for some fun while the adults get organised.
Remember each port with a souvenir
Everywhere we visit there are lots of locals selling hand-crafted products. If you buy something, even if it's not expensive, it will remind you of the places you visited and might even teach you a little about the local culture. You can get unique and interesting items if you buy directly from local craftspeople.
Let me know which cruise ship is best for a 12 year old!
Photo credit: zboog, Grufnik, davitydave, Joshua Bousel
Original post on Yahoo Travel.